Few exterior home features have the impact that house numbers do. They can make a powerful first impression on friends, family, and all who visit your home.
House numbers can reflect your home's exterior style and décor, so let these creative house number ideas inspire you.
15 Unique House Number Ideas
Depending on where you live, having house numbers may be a requirement. How else would responders locate your home in an emergency?
Here are a few ideas that will make your house numbers stand out while accentuating your home's exterior.
1. Numbers With a Flower Bed
Displaying your house numbers on a sign away from your front door has plenty of advantages.
It places your house numbers closer to the street for easy visibility and it lets you put your house numbers in the middle of a flourishing flower bed.
Depending on your climate, you can always change the plants to keep the blooms coming throughout the year. Just keep the plants trimmed, so vines, leaves, and flowers don't hide the numbers.
Our Top Pick
2. Painted House Numbers
Why add wooden or metal house numbers to the exterior of your home when you can have them painted on?
A creative option for a brick or stucco façade, painted house numbers provide high contrast if you choose the right colors. The white background here makes the house numbers more legible.
Use paints that are for exterior use, and cover with a clear varnish for extra durability. Painting on house numbers offers more creativity, and using stencils helps give a unique design with clear, straight lines.
3. House Numbers on a Colorful Front Door
Brass house numbers with a door knocker to match really stand out against the bright background of a colorful front door. This turquoise door accents your entrance and lets the numbers stand out.
Other colorful shades such as reds, greens, and yellows will do the same. Make sure the tone of the door isn't similar to the metal to allow the numbers to be visible from a distance.
4. House Numbers on a Gold-Rimmed Plaque
Having gold-toned house numbers on a black metal plaque lets the numbers stand out while giving your home a customized effect.
The black and gold plaque will accent any exterior color scheme while making house numbers stylish and easy to spot. Attention to detail like this gives your home added curb appeal.
Our Top Pick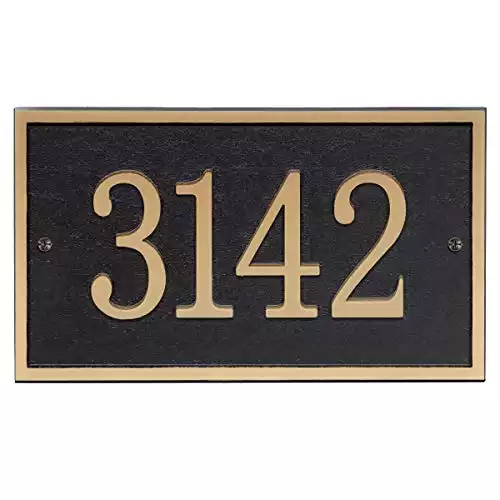 5. House Numbers Displayed With Street Name
Another option in a house numbers plaque is featuring the street name with the numbers.
With this option, make sure the numbers are large enough to be seen and that the street name doesn't overtake them in the design.
Custom plaques such as this make homes stand out from the others on their block. Choose colors that accent the exterior of your home.
6. Brass House Numbers Against a Bright Background
Another option for mounting metal house numbers is placing them on the exterior of the home instead of the front door or door frame.
This happy yellow house color makes a bright and beautiful background for house numbers that are in darker metallic shades.
House numbers that contrast with the exterior of your home will be easier to read from a distance.
7. House Numbers on Mediterranean Tiles
Spelling out house numbers with Mediterranean tiles adds a unique and beautiful touch to your home. Tiles work well with any home exterior.
But they're especially appropriate for a Mediterranean-style villa. These tiles might bring to mind a lovely vacation to Tuscany or highlight a love of Mediterranean style.
Our Top Pick
8. Stainless Steel Art Deco House Numbers
The sophisticated style of Art Deco provides a sleek accent to any home, but especially those in the same decorating style.
House numbers in this style highlight houses with clean lines such as those inspired by Frank Lloyd Wright.
Just make sure there is enough contrast between the home and the house numbers to make them visible from a distance.
Our Top Pick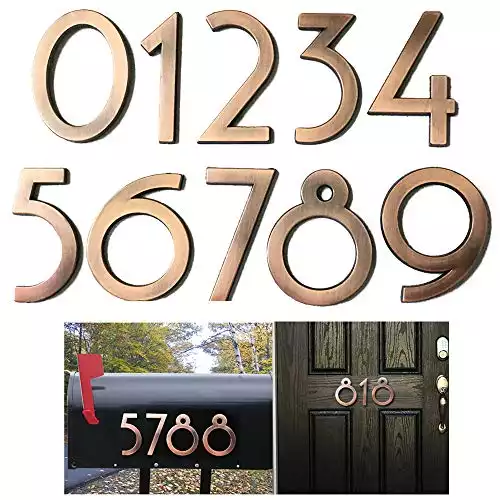 9. House Numbers in Creative Fonts
The swirls of the six and the nine in this stylized font add extra style to this display of house numbers. Finding a unique font is another way to add character to your home's exterior through house numbers.
As long as the font is legible, you can choose unique and unusual styles of house numbers. Font choice adds another layer of creativity to your house numbers.
10. Spelled Out House Numbers
Spelling out the words for your house numbers – fifty instead of 50 – is an attention-getting way to show your house numbers. Fonts for spelling out house numbers can range from Roman to cursive.
Visibility is critical, so make sure the words for your house numbers are legible and large enough so visitors can read them easily from the street.
Our Top Pick
11. Engraved House Numbers
House numbers that are engraved into stone and lined with a metal tone add a classical touch to the house numbers on your home's exterior.
Size and visibility are crucial here. However, the metal tone should make the number stand out from the stone.
12. Wooden Numbers
Not all house numbers have to be metal. Wooden house numbers add texture and interest to a home's exterior.
Paint them to contrast with the color of your home so people can easily read the number, and add a clear coat of varnish on top for extra durability. You can also stain the wooden numbers for added contrast.
Our Top Pick
13. Mosaic Numbers
Give the exterior of your home an artistic twist by creating a mosaic of your house numbers. The contrast between the numbers and the background makes these numbers easy to read.
Mosaic techniques are easy to learn, or you can search your community for artists who would be happy to create custom mosaic house numbers.
Our Top Pick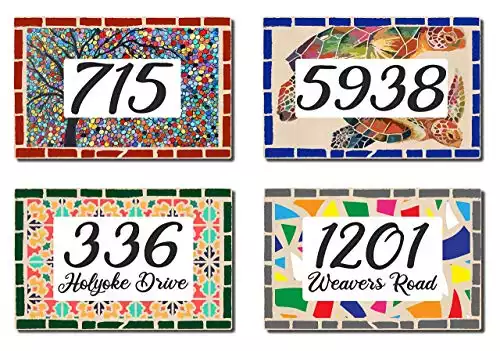 14. Hand Painted House Numbers
Another way to incorporate art into the exterior of your home is to create a hand-painted house number tile.
This art project may take additional skills, but chances are a local artist can make a custom-painted house number tile for your home. Custom borders reflect your interests and style.
15. Add House Numbers to a Gate
This retro cast-iron house number hangs suspended as part of an entrance gate. Numbers like these would add vintage style to your home.
When choosing antique cast-iron house numbers, consider how visible they will be from a distance or at night.
16. Extra Large House Numbers
If your house numbers need to be seen from a distance or you just like the style of oversized house numbers, this is your style.
An exterior wall provides a blank slate for a large house number, giving it plenty of visibility while it accents your home's style.
Before adding oversized house numbers, check with your homeowners' association to see if they're allowed.
17. Art Nouveau House Numbers
Art Nouveau-styled numbers on floral ceramic tiles add a beautiful and unique touch to any home. Antique lovers will enjoy this style from the past.
These white tiles let the house numbers stand out, and the floral border is a beautiful accent that can echo a flourishing flower garden.
18. Steel House Numbers
A steely gray set of house numbers add a sophisticated look to your home. Stainless steel is durable and resists rust, so it's well suited for house numbers.
If you're not fond of brass and gold tones, steel's silvery look can give your home's exterior a style that stands out. Steel house numbers suggest elegance and might be perfect for a city townhouse.
19. Antique House Numbers
Antique buffs might have to search to find them, but antique house numbers will give your home a vintage vibe.
If you enjoy the vintage style, antique house numbers will add charm to the exterior of your home.
Be sure that people can easily see and read the antique house numbers. Additionally, ensure that the material is durable, so you don't need to replace it often.
20. Large House Numbers
If your house sits far from the street, choosing large house numbers will make your home visible.
These extra-large numbers are mounted one to a board, which also gives your home's exterior a distinctive look.
Things to Consider
If you're choosing house numbers for your home's exterior, there are quite a few factors to consider.
Here are some questions you'll need to answer when adding new house numbers to your home.
Visibility:

Are the numbers easy to see, even at night? You'll want them to be visible so friends and family, home buyers, or first responders can find your home quickly. This should be among your first considerations.

Distance from the Street:

How far is your home from the street? This will determine the size of your house numbers should be. You'll want them to be easily seen from the road by someone driving by.

Lighting Your House Numbers:

If your house numbers are in a shady spot, add a light nearby to spotlight them at night. This will make them easily visible and easier to read for guests arriving by car.

Location of Your House Numbers:

Do you want your house numbers on the front door, the exterior of your home, or on a sign closer to the street and your driveway? Your answer will help determine the kind of house numbers you should buy.

Font Style:

Curvy or straight, gothic or Times New Roman, serif or sans serif? There are myriad fonts available for house numbers. Each can be a helpful accent reflecting your style and the décor of our home. Make sure the font you choose is easy to read from a distance.

Contrast:

Your house numbers should be in a shade that contrasts with the exterior of your home so they can be easily seen and read from a distance. Lighter-colored numbers on a darker-toned home exterior or darker house numbers on a bright or light exterior should be easy to read.

Material:

Your house numbers will experience rain, snow, and wind. Make sure the material your house numbers use weatherproof and durable material.

Size:

Size matters when it comes to house numbers. You'll want them to be large enough so a guest who is driving by and looking for your home can read them. Generally, larger house numbers are better but check with your homeowners' association for guidelines.

Safety:

First responders such as firefighters, police, and emergency medical personnel can't come to help in an emergency if they can't find your house. Easy-to-read house numbers are a safety feature for your home, bringing needed help faster during an emergency.

Style:

Don't let the style of your house numbers be an afterthought. House numbers can add charm and character to your home. Choose a style that reflects your home and your taste.

Warm Welcome:

House numbers that are easy to read and attractive give guests a warm welcome. They can easily find your home when you hold your next gathering.

Your Home's First Impression:

Your house numbers are the first impression your home will make. When guests can't find your home because they can't see the house numbers, it makes the exterior of your home look forgotten and not well maintained. Attractive and easy-to-read numbers accentuate your home's exterior and give a positive first impression.
What's Your Favorite House Number Idea?
So there you have it — house number ideas. Choosing functional house numbers – announcing the home's identity – and a beautiful accent to the home's exterior will add to your home's style, making it more welcoming.
You can't go wrong with picking one of the creative house number ideas above.