Looking for the best dishwashers of this year?
We've rounded up our top models, their features, real user reviews, why we love each one, and things to consider before replacing your dishwasher with a new model.
There are over 20 dishwasher brands on the market today.
With countless features, controls, wash cycle options, and price points, finding the best is challenging.
We've reviewed the top brands and dishwasher models to find and rank the top 5 according to the most important criteria.
Best Dishwashers At A Glance
1. Bosch 500 Series Dishwasher
2. LG Top Control Built-In Smart Dishwasher
3. Miele Clean Touch Steel Classic Plus Built-In Dishwasher
4. KitchenAid Top Control Built-In Dishwasher
5. Whirlpool Top Control Built-In Tall Dishwasher
A dishwasher's performance (washing and drying), noise level, design, interior features, and overall cost should all be top of mind as you start your search.
Keep reading to see industry averages and learn how our top 5 picks rank. Then, check out our buyer's guide to help you compare and shop around for the best.

Best Overall: Bosch 500 Series Dishwasher​
Best Overall
Overall Score: 20/20
Performance: 4/4
Noise Level: 4/4
Design: 4/4
Interior: 4/4
Cost: 4/4
Bosch has long been considered one of the top dishwasher brands, and for good reason. The 500 series model SHPM65Z55N is our number one pick because it excels in every category.
It combines whisper-quiet operation, a fingerprint-resistant stainless steel exterior, many performance-enhancing features, and a surprisingly affordable price tag. Here's why this is our top pick.
The Bosch 500 series dishwasher gets every dish sparkling clean with features like PrecisionWash that checks the progress of cleaning during wash cycles and Speed60 (a quick 1-hour wash cycle).
You're guaranteed to get clean, dry dishes with the included Bosch PureDry system. It's a condensation drying system that pulls water away from the dishes and onto the stainless steel interior. This means there's no heating element to melt your plastic dishes and lids.
Combined with the exclusive AutoAir Dry, which slightly opens the door when a cycle is finished, this model does a phenomenal job getting dishes dry.
It has a 3rd rack to increase capacity, enough room for 16 place settings, EasyGlide racks, and flexible tines for full rack customization. And it's so quiet (at just 44dB) that it beams a discreet infolight, a red light it projects on the floor, while it's on so you'll know it's running.
It's well-designed, attractive enough for even the most modern kitchen, and simple to use. At less than $1,000, this model is a great buy that is easily the top model in its price range right now.

Second-Best: LG Top Control Built-In Smart Dishwasher​
Second-Best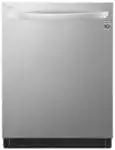 Overall Score: 19/20
Performance: 4/4
Noise Level: 4/4
Design: 3/4
Interior: 4/4
Cost: 4/4
If a smart dishwasher is more your style, this LG model is sure to please. It brings high-tech together with high performance. It connects to WiFi so you can control and monitor the washer and its cycles with your Alexa, Google Assistant, or smartphone.
It will even send you an alert when the dishes are clean! There's plenty of room inside for 15 place settings, a 3rd rack, steam functions for deep cleaning, and a special QuadWash feature that uses four powerful rotating spray arms instead of the usual 2.
The TrueSteam feature blasts dishes with hot steam to clean and eliminate water spots on dishes. Another awesome feature is the ability to wash a half-load in just the upper or lower rack.
It uses condensation drying to get your dishes completely dry without leaving water spots. That means it's more energy-efficient, and there's no heating element that can damage plastic dishes and utensils.
You won't hear this model running during any of its ten wash cycles because it operates at about the noise level of a quiet library – 42dB.
That's thanks to the nearly silent Direct Drive motor (backed by a 10-year warranty) and the sound-insulating stainless steel interior. Interior LED lighting makes it easy to see inside the tub.
And an LED display hidden along with the controls in the top lip of the door. The fingerprint-resistant stainless steel exterior is attractive and easy to clean. All of these features and it's still priced below average at less than $830!

Third-Best: Miele Clean Touch Steel Built-In Dishwasher​
Third-Best
Overall Score: 18/20
Performance: 4/4
Noise Level: 3/4
Design: 4/4
Interior: 4/4
Cost: 3/4
For a high-performing dishwasher that's still affordable, the Miele Clean Touch Classic is one of the best choices. It's got three wash arms to direct powerful jets of water at every dish in the racks.
An auto-open door feature pops the door open a crack after a wash cycle to speed up drying. It's a smart appliance that you can connect to an app on your smartphone to control and monitor remotely.
The interior is stainless steel, known to help it run more quietly and use the preferable condensation drying process instead of a heating element.
The top rack is adjustable so you can arrange your dishes how you please. Benefit from safety features like the Double WaterProof System, which detects any leaks and cuts the water supply to minimize damage.
There's the trusty child lock and in-operation indicators that show when it's running. One of our favorite features is the countdown indicator, which shows you exactly how much time is left on the cycle.
Choose from 5 different wash cycles, including a powerful Pots & Pans cycle that offers the maximum level of deep cleaning.
At a respectable 46dB, it's quiet enough to run nearly unnoticed. The Miele brand is known for building reliable, long-lasting appliances, and this model is no exception. It's a little pricier than some dishwashers at around $1,000.
But you can get 20 or more years of use from it. Consumer data shows that 91% of Miele dishwasher owners don't need service during the first year they own the appliance.

Fourth-Best: KitchenAid Top Control Built-In Dishwasher​
Fourth-Best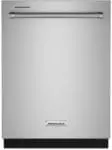 Overall Score: 17/20
Performance: 4/4
Noise Level: 4/4
Design: 3/4
Interior: 3/4
Cost: 3/4
The KitchenAid KDTM354ESS dishwasher certainly deserves one of the top spots. It has more exclusive features than most of the dishwashers we've reviewed. It's renowned for its top-notch drying capabilities, self-cleaning filter, and professional level cleaning.
Choose from 6 different wash cycles to customize your clean. No matter the cycle you choose, your dishes will get noticeably cleaner from the 40 powerful jets included in the ProScrub system. Somehow, it still operates at a very quiet 44dB.
The ProWash cycle senses how dirty your dishes are and automatically adjusts the cleaning cycle to ensure every bit of food and debris is removed.
With the Clean Water Wash System, those little bits of food and debris get swept away and filtered out of the water to avoid contaminating your cleaned dishes.
Once the dishes are clean, the Fan-Enabled ProDry system works to remove water fast without leaving spots behind. It's powered by a heating element and fan that leave the entire wash tub completely dry.
Customize the interior layout with SatinGlide racks that are easy to adjust and pull out. You can adjust the sliding tines in the lower rack to fit your dishes in the way you want.
There's enough room for 15 place settings, so you can load it up without sacrificing cleaning ability. The only things this model lacks are a 3rd rack and fingerprint resistant exterior. It's a little more than $1,000, but reviewers say it's well worth the price.

Fifth-Best: Whirlpool Top Control Built-In Tall Dishwasher​
Fifth-Best
Overall Score: 14/20
Performance: 3/4
Noise Level: 2/4
Design: 2/4
Interior: 3/4
Cost: 4/4
Whirlpool's model WDT710PAHZ is our most affordable pick. If clean dishes, cost-effectiveness, and plenty of dish capacity are what you're looking for, this is the appliance to consider. At around $650, it's the most affordable dishwasher on our list.
But it's still one of the best, thanks to its performance-enhancing features. A 3rd rack expands your dish capacity so you can fit it all into one load. You can wash up to 13 complete place settings in the three racks.
With five wash cycles to choose from, including a quick 1-hour wash and a sensor wash option, every dirty dish will be thoroughly cleaned and dried at the end of the cycle.
You can easily adjust the upper rack to the height you need to squeeze larger pots and pans in on the bottom rack or accommodate tall glasses. It stops wet dishes with a heating element and fan combo that blow hot air over dishes to remove moisture.
On the design end, this Whirlpool model is surprisingly sleek. The controls are hidden for a high-end look that will go with any kitchen. If you're wondering what the catch is, there aren't many negatives to point out.
The interior tub is plastic, not stainless steel, which explains the lower price. Because the plastic interior doesn't do much to muffle sound, it's a little louder than other models on this list at 51dB. For reference, that's still quieter than a normal conversation.

Buyer's Guide: How to Choose the Best Dishwasher
If you want a dishwasher that will last for many years and earn its keep by cranking out clean dishes that come out dry, you have to do a little research before shopping.
Some brands and models just don't meet the criteria.
We've reviewed dozens of dishwashers and hundreds of customer reviews to determine the most important factors when buying a new one.
Above all, you should compare and analyze the performance, noise level, design, interior features, and cost of each dishwasher you consider. Find out how to accurately judge your purchase based on each of these criteria below.
Performance
The performance level of the appliance is the first thing you should consider. Basically, how well does the dishwasher wash and dry dishes?
Without testing it out, it's hard to know for sure, but you can make an educated estimate by considering the following.
How many wash cycles does it have? More doesn't necessarily mean it's a better appliance, but you'll want at least 4-5 wash cycles to ensure it can meet all your dishwashing needs.
What special wash cycle options does this model feature? You'll see some that offer sensor wash cycles that detect the amount of dirt and food in the load and automatically adjust to provide the right level of clean.
Others have cool features like special cycles for pots and pans, ultra-high heat for sanitizing, more high-powered jets, and more. Pay attention to these to get an idea of how well it performs.
How does it dry dishes? Stainless steel interiors typically indicate a condensation drying process is used. This is when the remaining water on dishes is attracted to the cooler stainless steel interior sides, leaving the dishes dry.
Plastic interiors might use a heating element and fan combination to blow hot air across the dishes inside, removing the moisture, but potentially melting plastic dishes inside.
Remember that some models combine an auto-open door feature to allow even more moisture to escape during drying.
Noise Level
If you've ever had a noisy appliance, you know how annoying it can be. Because most of the dishwashers on the market today are designed to be energy efficient, they run longer cycles to use less water.
Longer cycles are a big problem if your dishwasher is loud, but hardly noticeable if you find one that's quiet enough. For reference, the noise levels across brands and models range from about 38dB to more than 60dB.
Aiming for lower dB levels means a quieter machine. Look for one rated 45dB or lower for whisper-quiet operation, but these often cost a little more. At 50 dB or less, the noise level is still very low, and the price is a bit more affordable.
At 51dB and up, you'll find the most affordable appliances, but it's a tradeoff for the slightly louder operation. If you want the quietest option, look for one with a stainless steel interior and direct-drive motor.
Design
Looks do matter, especially when you're considering an appliance that will be front and center in your kitchen for years to come.
Just make sure you're balancing design with overall performance and quality. The clunky dishwashers of the past with huge control panels are all but phased out.
You'll see lots of sleek, professional-looking options on the market today. Many have hidden controls along the top of the door for a seamless, high-end look.
It's common to see fingerprint-resistant stainless steel exteriors that can easily be cleaned with a damp cloth.
Many models are available with or without an included towel bar, so consider which option you prefer as you shop around.
And if you do opt for a stainless steel exterior, make sure it's fingerprint-resistant. If not, you'll spend a lot of time carefully cleaning it.
Interior
The interior features are also important to consider. Think about the tub itself, the racks, customization options, and bonus features like interior LED lighting.
A dishwasher's interior (the tub) may be made of stainless steel, which is preferable, or plastic, which is a more affordable option.
Remember, stainless steel interiors reduce the noise level and are essential for condensation drying. The included racks deserve your attention as well. Most dishwashers will have an upper and lower rack, but increasingly, 3rd racks are becoming common.
Removable silverware holders, and special silverware racks are usually included, too. The ability to customize the arrangement and layout of the racks and parts inside your dishwasher is wonderful to have.
Look for adjustable racks, sliding tines, and ways to configure the interior layout of any washer you're considering. It's nice to be able to move things around to accommodate an oversized pot or snugly fit a uniquely shaped bowl.
Cost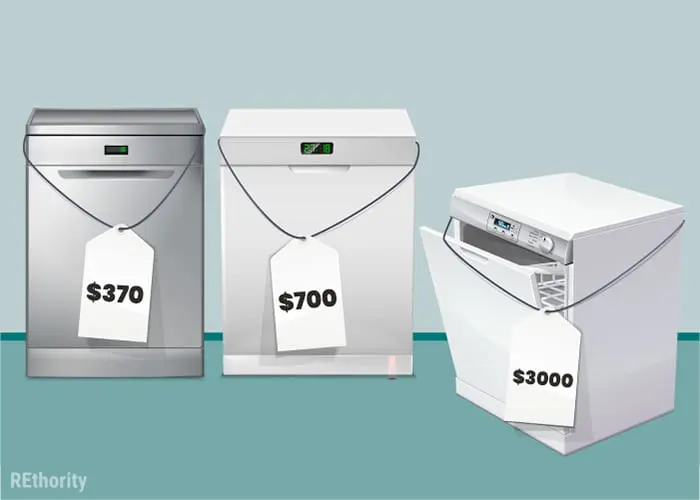 It would be nice to pick out the best dishwasher without a second thought of the cost, but for most of us, we're sticking to a budget as we shop.
The key to ending up with the best appliance is to spend at the upper end of your budget range.
You'll find models priced anywhere from about $370 up to more than $3,000, but most are priced around $700. It's easy to spend less than that, though, as long as you consider the performance, noise level, design, and interior features you'll get.
Because these are appliances designed to last for many years, spending a little more than you might have expected to can be a good thing.
Cheaper, lower-quality options might cost less upfront. But they require more repairs, maintenance, and eventual replacements. Overall, those models may end up costing more in the long run.
Choosing the Best Model for Your Needs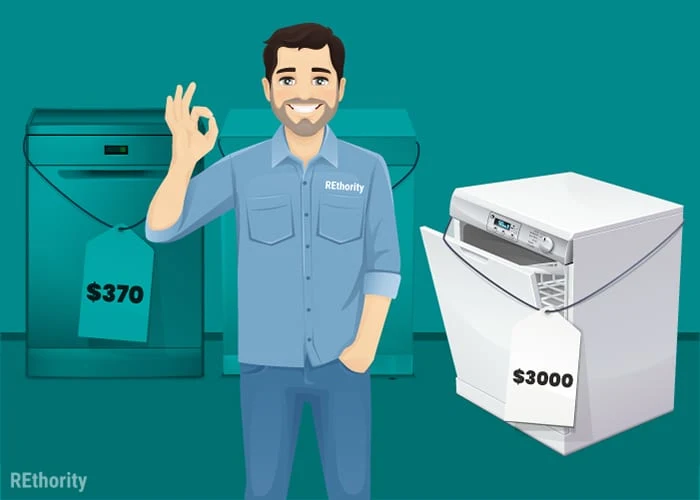 Performance is the first thing you need to consider when shopping for a new kitchen appliance like a dishwasher.
You can find out how well it generally performs by looking at the number of wash cycles, any special cycles it has, and the drying method it uses.
The noise level is the next consideration. You don't want a dishwasher that drowns out kitchen conversations, so opt for one with a decibel level of about 50dB or lower.
A design you can appreciate and be proud to display in your kitchen is a must. So think about the exterior appearance, visibility of controls, and whether or not you want a towel bar.
The interior layout matters more than you might think. Opt for one with a 3rd rack, special removable or customizable racks and trays, interior LED lights, and a stainless steel tub.
Finally, weigh the cost with these other considerations to ensure you get the best dishwasher in your price range.
With these criteria in mind, you can sift through the low-quality models on the market and go straight to the best option that will be a reliable, high-performing addition to your kitchen.
Frequently Asked Questions
What brand of dishwasher is most reliable?
Bosch is continually rated the most reliable brand of dishwasher, according to studies from consumer advocacy groups and product review sites. Runners up include GE and Frigidaire. Samsung is often rated one of the worst-performing brands you can buy.
What is the #1 rated dishwasher?
According to our thorough review process, we determined that the Bosch 500 Series dishwasher is among the best dishwashers you can buy. It's sold by a well-known brand, has a great warranty, and has more than a handful of positive reviews from real users.
Which dishwasher breaks down the least?
After thoroughly researching several of the top dishwashers on the market, we determined that Bosch and Whirlpool are the least likely dishwashers to break down in the first 5 years of ownership.
Resources: