Searching for a guide on the best air compressor of this year?
Search no further. We've compiled a list of our favorite models according to reviews, pricing, and our own input.
Read on to learn all you need to know.
8 Best Air Compressors on the Market
We've found the top-rated, most reliable air compressors on the market right now for home and professional use.
There are tons of options out there, but we think these eight air compressors are the best. We've ranked them below.
1. DEWALT DWFP55126 6-Gallon 165 PSI Pancake Compressor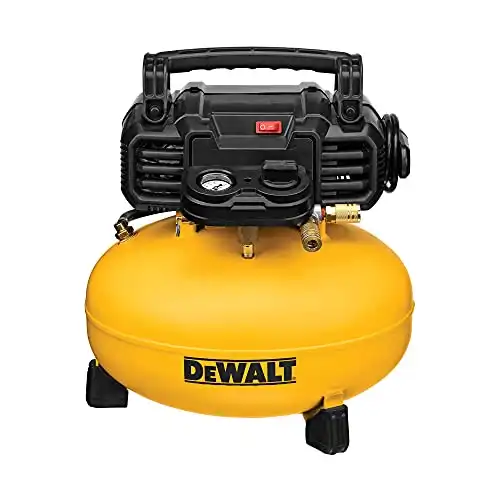 This impressive air compressor is deserving of the number one spot for a few reasons. It's quiet, supports two tools at once, and features a high-flow regulator that increases airflow.
At 90 PSI, this model delivers 2.6 cubic feet of air per minute. This ensures you'll be able to run it without much interruption, and recovery time is fast at about 2 minutes.
Another winning factor is the excellent value of this model, which you can pick up at or below $200. The 6-gallon tank size is the biggest you'll find in the pancake-style air compressors.
Reviews note that the powerful motor is reliable in any setting, even a freezing garage on a winter day. Since it's oil-free, you won't have to worry about constant maintenance.
But when you're doing your yearly maintenance inspection, the removable console over the control panel comes in handy.
Other features we like include a convenient ball drain valve (much easier than screwing and unscrewing a threaded valve), rubber leg covers, and a cord wrap for quick and easy storage when the job is done.
Overall, this air compressor consistently delivers on every spec that's important: Capacity, max PSI, CFM, reliability, size, and noise level. It's hard to beat.
DEWALT DWFP55126 Specs
6-gallon capacity

30 lb. weight

165 max PSI

2.6 CFM @ 90 PSI

3.7 CFM @ 40 PSI

High-efficiency motor

High-flow regulator

Two universal couplers

75.5 dBA level

Oil-free

120V motor

Cord wrap

Ball drain valve

Rubber leg covers

Removable console cover
2. Porter-Cable C2002 Oil-Free UMC Pancake Compressor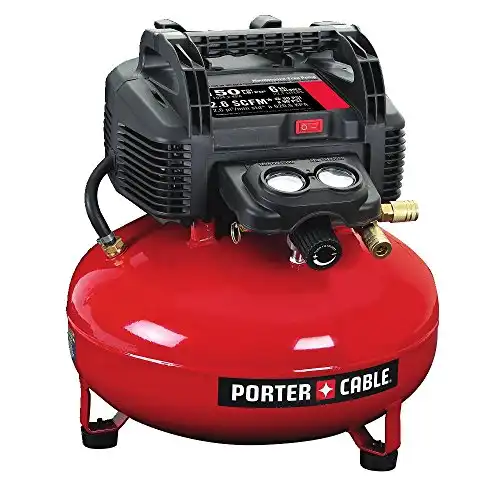 The Porter-Cable C2002 pancake compressor is a really nice unit. It's good for general use, whether you're sinking nails or filling tires. It shares a lot of specs with our number-two pick, the Hitachi combo kit.
But it delivers slightly less air at 2.6 CFM (90 PSI) and 3.5 CFM (40 PSI). This little compressor is also a good value, and you can pick one up for around $140.
If cost is your main determining factor, this could be a good unit. Just be prepared – it's pretty loud. When the pressure falls to 120 PSI, this compressor motor will kick back on to refill it back to 150 PSI.
Porter-Cable says it takes only 20 seconds for recovery, but we haven't been able to validate that claim. In any case, this unit is good for light to medium-duty tasks like filling tires or inflating things, finish and trim work, and operating small pneumatic tools.
Just don't use it for more than about 30-45 minutes per hour, or you could harm the induction motor. One more note: You'll receive a 13-piece accessory set with this model.
But many users warn that the quality of these accessories is subpar. One reviewer called them "consumer-grade" and noted they were made mostly of plastic and cheap metal.
Porter-Cable C2002 Specs
6-gallon capacity

30 lb. weight

150 max PSI

2.6 CFM @ 90 PSI

3.5 CFM @ 40 PSI

82 dBA level

Two universal couplers

120V motor

Shroud, handle, and console cover

Cord wrap

Includes 13 piece accessory kit
3. Makita MAC2400 4.2-Gallon 130 PSI Twin Tank Air Compressor
The Makita MAC2400 is a very well-known, popular air compressor. It's developed a bit of a loyal following. It's pretty quiet at 79 dBA, features two tanks totaling 4.2 gallons, and runs off a 2.5 horsepower induction motor.
The motor powers a durable cast iron oil-lubricated pump. This unit is known for reliability, and if you're looking for an air compressor that's not quite as heavy-duty as the Ingersoll-Rand Garage Mate, this could be the right choice.
It has self-locking quick-connect fittings, rubber feet that further cut down on noise, and a Big Bore cylinder that compresses more air for better operation.
No hose comes with this unit, though, so you'll need to buy one. It weighs almost 80 pounds. The 4.2-gallon capacity leaves a little to be desired, and the 4.2 CFM at 90 PSI won't power some pneumatic power tools.
Makita MAC2400 Specs
4.2-gallon capacity

77 lb. weight

130 max PSI

4.2 CFM @ 90 PSI

4.8 CFM @40 PSI

2.5 horsepower motor

79 dBA level

Rubber feet

Air filter

Quick-connect self-locking fittings
4. Campbell Hausfeld DC080500 8-Gallon Ultra Quiet Air Compressor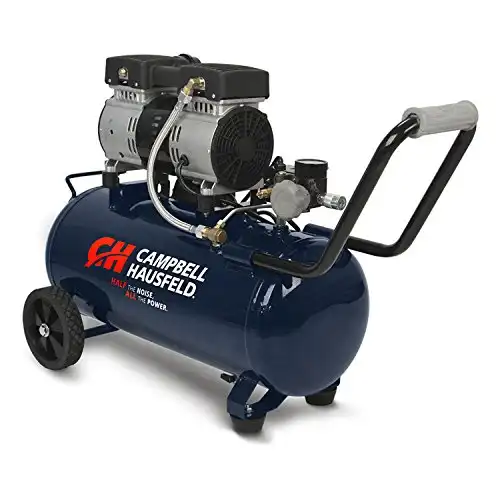 This oil-free air compressor is known for running extremely quietly, just about the dishwasher's noise level. For garage use, it's quiet enough not to disturb others nearby. In fact, it's the quietest compressor on our list.
It has an 8-gallon capacity, which is plenty for most home uses, and reaches a maximum 120 PSI. It's not the most powerful by any means with a one horsepower motor.
But the larger tank capacity makes it a good candidate for running nail guns and impact drivers or using it for air cleaning. It features wheels and a steel handle for easy maneuvering.
It's a pretty solid machine depending on your purpose for it. Just don't expect this air compressor to power air grinders, sanders, or paint guns. It's not powerful enough.
Campbell Hausfeld DC080500 Specs
8-gallon capacity

67 lb. weight

120 max PSI

2.4 CFM @ 90 PSI

68 dBA level

One horsepower motor

Rubber wheels

Steel handle with rubber grip

Rated "Ultra Quiet"

One year warranty
5. DEWALT DWFP55130 2.5-Gallon 200 PSI Compact Compressor
DEWALT rarely disappoints, and the DWFP55130 model is no exception. This compressor is described as heavy-duty, but it's more a medium-duty unit.
This pint-sized powerhouse generates a maximum of 200 PSI from a 2.5-gallon tank with 3.0 CFM at 90 PSI. You'll like the very bearable 71.5 dBA noise level, and the oil-free pump means less maintenance.
Store it horizontally or vertically, thanks to the roll cage design, and fit it just about anywhere. It's only 14 inches wide and 36 pounds. The high-efficiency motor draws 12 amps so you won't have to worry about tripping the breaker every time you use it.
You can't power pneumatic tools like grinders, paint guns, or sanders with it, but if you need a solid compressor for quick bursts (like a nail gun), this one would have you covered.
DEWALT DWFP55130 Specs
2.5-gallon capacity

36 lb. weight

200 max PSI

3.0 CFM @ 90 PSI

71.5 dBA level

High-efficiency motor

Roll cage design

Oil-free pump

High-flow regulator

Smaller size for easy storage

Store horizontal or vertical
6. California Air Tools CAT-10020 10-Gallon Ultra Quiet Air Compressor
Final on the list, but still very much one of the best air compressors available, is the California Air Tools CAT-10020. It's incredibly quiet, though not as quiet as the Campbell Hausfeld DC080500.
And it's designed for portability, efficiency, and ease of use. It's a larger compressor made by a reliable company that's known for quality. Wheels make it easy to move around.
It's a wonder that the CAT-10020 is so quiet because it runs off a 2-horsepower motor. Even so, at 100 PSI, it operates at about 70 dBA.
This is just a little louder than a normal conversation volume. It's not the most heavy-duty compressor on the list, but it's quiet, fast to refill, large capacity, and easily moved around.
It's a pretty solid contender if you need more power than a 6- or 8-gallon tank can provide, but not as much as a 30- or 60-gallon.
California Air Tools CAT-10020 Specs
10-gallon capacity

91 lb. weight

125 max PSI

5.3 CFM @ 90 PSI

CFM @ 40 PSI

70 dBA level

Fills in less than 130 seconds
7. Ingersoll-Rand SS3F2-GM Air Compressor

(discontinued product)

If you demand more from your air compressor than a small, pancake model can provide, here's your answer: the Ingersoll-Rand SS3F2-GM. "GM" stands for Garage Mate, and it's easy to see why.

You'll be taking care of business non-stop with the 100% duty cycle it's built for – no need to turn it off every 30 minutes to give it a break. This unit is powerful enough to stand up to the rigorous demands in a small body or woodworking shop.

The rubber wheels make it easy to move around. We like that even with the size and power, it still runs quieter than a dishwasher. If you're wondering what the catch is, it's the oil-lubricated pump.

There's quite a bit more maintenance involved with oil-lubricated compressors than with oil-free. On the bright side, the cast-iron oil-lubricated pump makes this machine even more reliable and durable.

And wow, is it powerful. You'll see what we're talking about when you experience the 5.7 cubic feet of air per minute this unit delivers at 90 PSI. You can thank the 2-horsepower electric motor for that.

Remember that most pneumatic power tools need anywhere from 4-6 CFM to operate. It reaches 135 maximum PSI. You'll be looking at around $770 for this heavy-duty air compressor.

Note, though, this unit doesn't come with oil or a filter, so be sure to grab the starter kit. It will also extend the warranty on the pump to 2 years if you purchase the starter kit.
Ingersoll-Rand SS3F2 Specs
30-gallon capacity

185 lb. weight

135 max PSI

5.7 CFM @ 90 PSI

69 dBA level

100% duty cycle

Rubber wheels for portability

Two horsepower electric motor

Oil-lubricated cast iron pump

Extended two-year pump warranty w/starter kit purchase
8. Hitachi KNT50AB 6-Gallon 150 PSI Finish Combo Kit (discontinued product)
If you're after a "best all-around" air compressor, you'll like the Hitachi KNT50AB combo kit. It's perfect for woodworking projects and any kind of finish work.
The 6-gallon pancake tank delivers 2.8 cubic feet of air per minute when operating at 90 PSI (a little more than our number-one pick, the DEWALT DWFP55126).
It can only generate up to 150 PSI, but it's still a little powerhouse that's second only to the DEWALT pancake model. It's got two universal couplers.
So you can run two nail guns or tools at once, and the industrial regulator and gauges make it easy to adjust PSI. What it has that the DEWALT doesn't: A lot of included accessories.
When you purchase this model, you're going to get an 18-gauge finish nailer, a 25-foot hybrid hose, a pair of safety glasses, and pneumatic oil to keep your tools running efficiently.
It's not as affordable as the DEWALT, but considering the tools and extras it comes with, the $325 price tag is still a great value.
Hitachi KNT50AB Specs
6-gallon capacity
36.5 lb. weight
150 max PSI
2.8 CFM @ 90 PSI
3.7 CFM @ 40 PSI
73 dBA level
Two universal couplers
Includes 2″ 18-Gauge Brad Nailer (NT50AE2)
Portable 6-Gallon Pancake Air Compressor (EC710S)
25′ x 1/4″ hybrid air hose
Safety glasses
Pneumatic tool lubricant
Rubber leg covers
Industrial regulator
Steel roll cage
What Is the Best Air Compressor?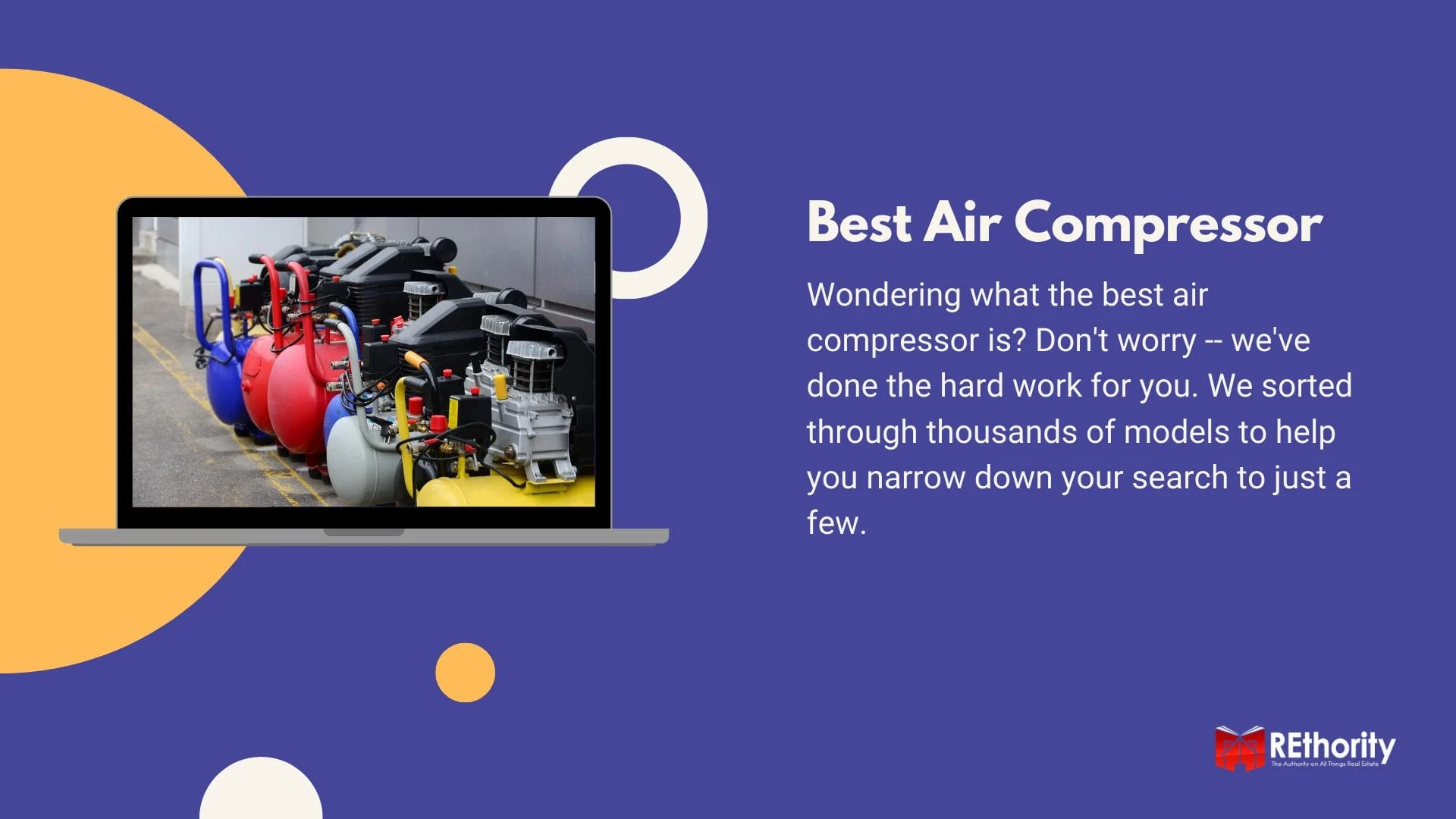 Air compressors are a vital part of any home workshop setup, body shop, or woodworking business. They're used to fill tires, power nailers, sandblast, and more.
Finding the best air compressor that offers great value, plenty of power, and all the features you need can be challenging because there are so many different models around.
Even if you know a brand you trust, deciding between different units is tough. That's why we've created a complete guide for anyone on the hunt for the best air compressors on the market today.
In This Guide
We've reviewed hundreds of units, models, reviews, and specifications to find the top 8 compressors. We found a range of high-quality compressors for different uses.
So you're sure to find one that meets your needs. Making your choice from the eight best air compressors is much easier when you first have a solid understanding of a few basics.
We'll cover those first and include our list of the best air compressors on the market next.
In this guide, we'll discuss:
How air compressors work

Different types of air compressors for different uses

Important things to consider before buying

The eight best air compressors on the market
How Air Compressors Work
Air compressors may seem complex, but the principle behind them is pretty simple. Air compressors use a compressor pump powered by an electric motor (usually 120 volts) or a gas engine.
Here's the simple version of what happens when you turn an air compressor (reciprocal piston) on for use:
The electric motor or gas engine pushes air into an air tank by creating a vacuum until it reaches the maximum pressure the tank can hold. If it's a very small compressor, there may not be a tank, and the air will go directly into the item it's plugged into.

The electric motor or gas engine shuts off, no longer pumping air into the air tank.

When the air inside the tank is used up, the motor or engine turns back on and sends enough air back in to raise the pressure to the maximum level again. Without an air tank, the motor or engine will stay on, pushing compressed air out until it is turned off.
The actual operation is a lot like an internal combustion engine. Many of the same parts are there; air compressors have a cylinder, valve head, crankshaft, connecting rod, and piston.
What Happens Next
As that piston moves up and down, it's constantly compressing air into less and less volume. This air is sent to the storage tank (the air tank) once it reaches its maximum pressure.
From there, it can be used as a form of power. While air compressors generally work the same way, some are much more powerful than others.
You don't need an incredibly powerful air compressor for certain tasks, like airing up a tire. A small air tank can easily supply the amount of air you need.
However, in industrial settings where large amounts of air pressure are used to power big machines, the air tank has to be much larger because more air is used at once (and depletes faster).
Most Common Air Compressor Uses
Air compressors have a wide range of possible uses. They can be used for something as simple as inflating a pool float or as complex as powering pneumatic equipment for offshore drilling.
Let's look at some of the most common air compressor uses at home and small, medium, and industrial applications.
Home Air Compressor Uses
Home air compressors can be small, handheld units or large, 60+ gallon stationary tanks. They are not as powerful as their larger commercial or industrial counterparts.
You might need an air compressor at home to:
Air up tires for vehicles and bikes

Blow up inflatables and balloons

Power small pneumatic tools

Power painting guns

Cleaning sawdust, dust, or debris out of equipment or hard-to-reach areas
Appliances and machines in the home also use internal air compressors, including:
Refrigerators and freezers

Air conditioners

Pressure washers

Engines
Professional Air Compressor Uses
Compressed air is a necessity for many different types of businesses. The air compressor's business uses are more powerful than units intended for at-home use.
Air compressors are commonly used in a business to:

Power larger pneumatic tools

Power dental tools

Paint vehicles using a paint gun

Sand surfaces (metal or wood)

Create artificial snow

Clean machinery and equipment

Sandblast metal parts

Deliver oxygen from tanks to patients or divers

Power brake systems for trucks and trains
Industrial Air Compressor Uses
The use of air compressors is essential in the manufacturing, agriculture, drilling, and foodservice industries. Large-scale operations need air compressors for different applications.
And many consider it as important as electricity, gas, and water in industrial settings.
Manufacturing
Cutting/welding equipment

Pneumatic tools on production lines

Using air knives, clamps, air chucks, and positioners

Blowing gas tanks and plastic bottles

Ejecting parts from production molds

Sandblasting and painting metal

Operating and adjusting heavy machinery

Packaging products of all types
Agriculture
Spraying crops with pesticides and fertilizers

Powering ventilation systems

Pneumatic tools and handling equipment

Powering dairy machines and equipment

Transporting grain and feed via conveyors
Drilling
Powering ventilation systems

Operating steam and coolant circuit valves

Inserting and removing reactor rods

Insulating against excessive water motion

Pneumatic tools and equipment on and offshore
Food and Beverage
Cooling/freezing products

Filling and bottling beverages

Closing products

Packing and compiling products onto pallets
Even the pharmaceutical, recreation, and dry cleaning industries rely on air compressors to stay in operation.
Pharmaceutical companies use air compressors to move products on conveyors, spray coatings on medicines, bottle products, and keep consistent pressure in mixing and holding tanks.

Theme parks run roller coasters, animated characters, and fountains using air compressors.

Dry cleaning companies use air compressors to apply their cleaning agents and run steam cleaners and presses.
Seeing just how many different applications and uses there are for air compressors is amazing, considering that all air compressors do the same thing.
They internally build pressure to squeeze a gas, like air, into a smaller area, giving it less volume.
What Kind of Air Compressor Do You Need?
To decide what kind of air compressor you need, you'll have to ask yourself the following questions:
What will I use it for, and where?

Some uses require more horsepower or pressurization than others, so take this into account. Also consider where it will be stored so you'll know to focus on single or double stack units and whether to look for a vertical or horizontal unit.

What's my budget?

It would be nice to get the most powerful air compressor on the market for your needs, but keeping your budget in mind will help you narrow your options.

What features and specs am I looking for?

You might be looking for an ultra-quiet, lightweight compressor or one that's loud and powerful. Maybe it needs to be able to power a pneumatic tool you have. Knowing your desired features and specifications is essential to finding a compressor that works for you.
There are two general designs for air compressors: Rotary screw and reciprocating piston.
If you're buying an air compressor for at-home or small to midsize business use, you're probably looking for a reciprocating piston air compressor.
The Most Common Air Compressor
These are the most common designs, but they vary widely in their power and size. Deciding which air compressor to get really depends on how you plan to use it.
If you'll be using it to air up tires and pool floats on occasion, not much air pressure is required, and you can use a small air tank. If you plan to use it to operate pneumatic power tools, more air pressure is needed with a larger air tank.
Suppose it's for a manufacturing facility where the largest pneumatic machines and equipment are used to keep the factory in operation. In that case, your air compressor needs to be ultra-powerful because you'll need the highest air pressure.
Even air compressor shapes differ widely. You'll need to decide if you want:
Single stack (pancake, single-stage, or single tank)

Double stack (two-stage, twin stack or twin tank)

Vertical or horizontal
Single or Double Stack?
Single stack air compressors get their name from the number of crankshaft rotations required to compress air (in this case, that's one).
These can't generate as much pressure as double-stack air compressors. Usually, they are limited to 125 psi. At that pressure (or before, if using a regulator), the motor stops, and no more air is compressed.
You might hear these referred to as pancake air compressors because of their small, flat shape.
Pros: Lightweight, energy-efficient, quieter, small

Cons: More maintenance, less air pressure, less power
Double stack air compressors, also called two-stage, twin stack, twin tank, or hotdog air compressors, complete air compression in two stages and use two pistons.
Piston 1 compresses air and moves it into a smaller cylinder to reduce the volume, where piston two moves to compress it even further.
Pros: Less maintenance, can be portable, more capacity

Cons: Takes up more space, more expensive, louder
Vertical or Horizontal?
Vertical or horizontal air compressors refer to the unit's general shape, so your decision will come down to the amount of floor space you have.
Vertical compressors stand up because the tank is mounted on the motor and base unit. They don't require as much floor space. Horizontal air compressors take up more floor space.
Pros: Vertical stands upright and uses less floor space; horizontal doesn't reach as high for areas where vertical space is limited, like under desks or counters
Cons: Vertical needs enough room to stand upright; horizontal uses more floor space
You'll also need to consider any specifications or features you need from an air compressor. These are critical to picking the best one, because it'll fit your desired tasks.
Think about the horsepower (motor size), the SCFM (standard cubic feet per minute) rating, PSIG (pounds per square inch gauge), tank size, motor type, lubricated or oil-free, and duty cycle you need for your applications.
The last thing you want is to buy an air compressor that isn't powerful enough to get the job done!
Consumer, Professional, or Industrial Grade?
Consumer-grade air compressors are usually single stack units. They're used for small tasks like inflation and small pneumatic tools like staple guns.
Professional-grade air compressors will be double-stack units (reciprocating models) or rotary screw units that produce higher pressurized air and can power several pneumatic tools at once.
Industrial grade air compressors will be incredibly powerful and produce highly pressurized air for hours at a time. They'll be used only for large-scale operations on oil rigs, manufacturing plants, etc.
What's the Best Air Compressor?
If you're wondering about the best air compressor on that market, we hope our guide has served you well. While there's no right answer, we've found some models that were highly reviewed and made by well-known companies.
And while you're here, be sure to check out some of our other guides. We seek to be the best resource for homeowners and real estate professionals, and are certain you'll learn something you didn't know before.
Resources: