Greenery can give any room a lovely touch, but some plants require a lot of care.
Luckily, nearly all types of cactus houseplants are low maintenance. Cacti and succulents have grown in popularity over the last decade, and for good reason.
There are several benefits of adding cacti to your home décor, including:
They come in unique shapes, sizes, and colors.
Some cacti bloom beautiful flowers.
You rarely need to water them, especially in the winter.
Cacti enjoy being rootbound, so you won't need to worry about repotting as often as other houseplants.
Many species produce "pups" or offsets, so you can propagate them to have more cacti – free of charge.
9 Best Cactus Houseplants for Your Home
Although cacti don't require much, each variety has specific needs to thrive. Here are some of the best cactus houseplants for your home.
1. Angel Wings Cactus (Opuntia Microdasys)
Angel Wings
Sun exposure: Full sun
Soil type: Acidic, neutral, sandy, and well-draining
Watering needs: Moisten, don't soak
Flower color: Yellow
Bloom time: Summer
The Angel Wing Cactus, also known as Bunny Ears Cactus, is a member of the prickly pear family.
This plant grows clusters of bristles rather than sharp spines. If you plan to place your cactus in a large area, you'll appreciate this plant's size potential.
Although it's a slow-growing plant, this Mexican native can reach up to five feet tall over time. It's essential to keep up with pruning if you want to keep it small.
Aside from that, it's a plant that's easy to keep happy; as long as it gets plenty of sunlight and doesn't receive too much water. This blooming cactus bears yellow flowers, followed by red edible fruits in proper growing conditions.
2. Fishbone Cactus (Disocactus Anguliger)
Fishbone Cactus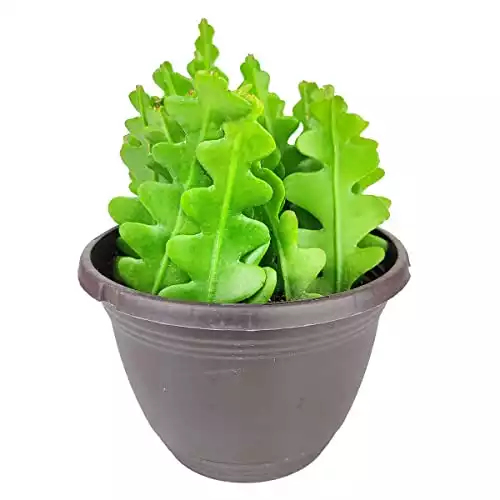 Sun exposure: Full sun
Soil type: Acidic, Neutral, sandy, and well-draining
Watering needs: Water once the top 2-3 inches of soil dries out
Flower color: Pink
Bloom time: Varies, but only blooms for one day
The Fishbone Cactus is a unique-looking cactus that works well for homes that don't get a lot of natural sunlight. Although it prefers full sun, it can tolerate partial shade conditions.
This cactus is famous for its angular or "zig-zag" stems, hence one of its common names, "Zig-Zac Cactus." With their long stems, these plants look beautiful in a hanging planter.
Like most cacti, the Fishbone Cactus thrives on neglect; only water it when the soil is dry. Additionally, this type of cactus is epiphytic and can grow in low-soil conditions when necessary.
3. Rat Tail Cactus (Disocactus Flagelliformis)
Rat Tail Cactus
Sun exposure: Full sun
Soil type: Acidic, Neutral, sandy, and well-draining
Watering needs: Keep moist, don't soak
Flower color: Pink or red
Bloom time: Spring, summer
The Rat Tail Cactus is known for its distinctive long, trailing stems that can reach upwards of four feet at maturity.
In late spring and early summer, this plant produces colorful tubular blooms that are typically reddish-violet, though some bloom colors like orange or pink.
Rat Tail Cacti like hot temperatures, so it is typically a houseplant year-round, aside from the hot summer months.
However, if you live in hardiness zones 10 and 11, you can set your plant on the patio for the extra sun. This drought-tolerant plant can survive long periods with minimal watering.
4. Coral Cactus (Euphorbia lactea 'Cristata')
Coral Cactus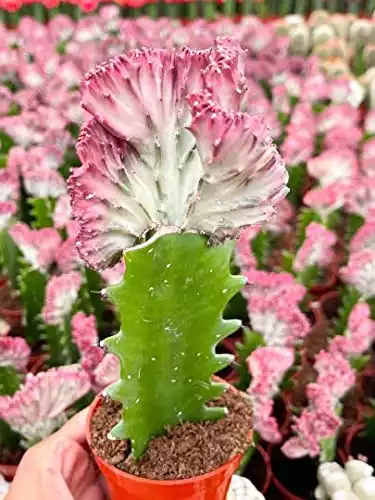 Sun exposure: Full sun
Soil type: Acidic, neutral, sandy, and well-draining
Watering needs: Every 2-4 weeks depending on the season
Flower color: Pink or purple
Bloom time: Varies indoors, though uncommon
Coral Cactus is two types of succulents grafted together, creating this stunning plant that looks like an exquisite sculpture.
There are several shades the top may be, varying from bluish-grey, green, or whitish-green.
The top portion is the crest of the Euphorbia lactea, and the green bottom, known as the rootstock, is Euphorbia nerifolia.
This popular houseplant is an undemanding plant that's more tolerant of shady conditions than other plants in its genus.
However, you'll have to water it more often; 1-2 weeks in the growing season and monthly during cooler months. It's important to note that latex sap is toxic to humans and pets.
5. Saguaro Cactus (Saguaro Cactus)
Saguaro Cactus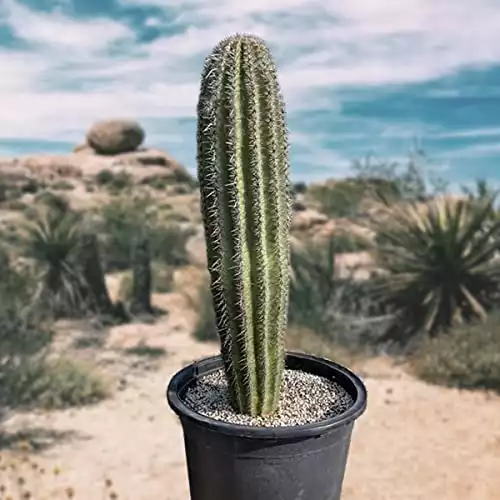 Sun exposure: Full sun
Soil type: Acidic, neutral, sandy, and well-draining
Watering needs: Full soak monthly
Flower color: Yellow
Bloom time: Late spring, early summer
If you've ever traveled to the Sonoran desert, you may recognize the Saguaro Cactus.
The Saguaro Cactus is a columnar cactus that is a distinctive desert plant, but you can also grow it as a houseplant. It can grow over 40 feet in the wild, though the tallest measured 78 feet tall.
If you want a sizeable Saguaro Cactus, purchase a well-establish plant from a reputable plant shop (be sure it wasn't poached.) one benefit of this cactus is its long lifespan, living decades in the proper conditions.
You'll need to ensure it gets plenty of sunlight and moist soil when it dries out.
6. Golden Barrel Cactus (Echinocactus Grusonii)
Golden Barrel Cactus
Sun exposure: Full sun
Soil type: Acidic, neutral, sandy, and well-draining
Watering needs: Once weekly in summer when soil is dry in cooler months
Flower color: Yellow
Bloom time: Mid-summer
Aptly named, the Golden Barrel Cactus is nearly perfectly round as a young plant. This distinctive cactus features deep, ribbed lobes with evenly-spaced columns of spines.
As they mature, they may stretch out, making them oval-shaped rather than circular.
Although slow-growing, this type of cacti can reach six feet tall at maturity. It doesn't typically grow in its native habitat but is cultivated as a houseplant.
Though it rarely flowers as a houseplant, it's possible for mature plants (over 15 years old) with growing conditions that mimic their native habitat.
Sometimes, homeowners grow this species outdoors in hotter regions to give it a better chance of blooming.
7. Bishop's Cap (Astrophytum Myriostigma)
Bishop's Cap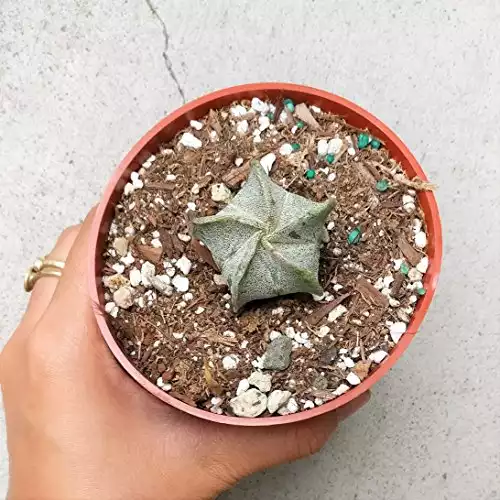 Sun exposure: Full sun
Soil type: Acidic, neutral, sandy, and well-draining
Watering needs: Water when the soil is completely dry
Flower color: White
Bloom time: Mid-spring to early summer
The Bishop's Cap, also known as Living Rock, is in a genus with six cacti species in Mexico and Southwestern United States. Three of the species, known as "star cacti," get their name from their star-like structure.
However, the Bishop's Cap variety grows more rounded, though it also features deep ridges.
Some of the Astrophytum myriostigma produce flowers in shades of orange, yellow, or red that bloom from the plant's center. This North American species can grow relatively big, reaching close to two feet in height.
8. Eastern Prickly Pear Cactus (Opuntia Humifusa)
Eastern Prickly Pear Cactus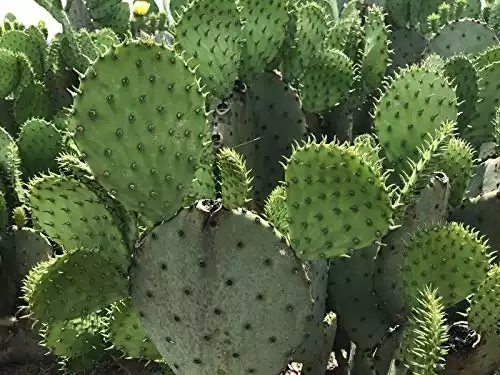 Sun exposure: Full sun
Soil type: Acidic, neutral, sandy, and well-draining
Watering needs: Every two to four weeks
Flower color: Yellow
Bloom time: Late spring, early summer
The Eastern Prickly Pear is a low-maintenance, hardy cactus that can survive climates down to hardiness zone 4a.
If you live in the midwest, you may have come across an Eastern Prickly Pear Cactus, as they're native to sand prairies near major rivers, like the Mississippi, Ohio, and Illinois rivers.
It features flat paddle-like stems and long, evenly-spaced needle-like spines and smaller spines, or glochids, that reflect sunlight from its pads.
Sometimes, this adorable cactus produces delicate yellow flowers with orange or red nectar in late spring. Following the blooms, "tunas" or their edible red or purple fruits emerge.
9. Moon Cactus (Gymnocalycium Mihanovichii)
Moon Cactus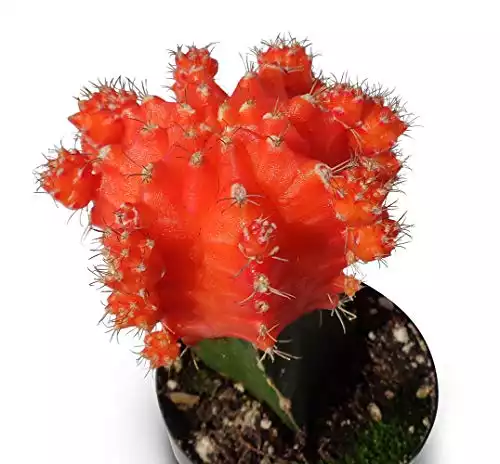 Sun exposure: Partial shade
Soil type: Acidic to neutral (5.5–7.0) and rich, fast-draining cactus mix
Watering needs: Let dry before watering
Flower color: Pale pink to bright red
Bloom time: Varies; typically late spring
Moon cacti are grafted specimens with a colorful top (the scion), gymnocalycium mihanovichii, and the lower green cactus host piece can be one of many species, though it's typically Hylocereus cactus.
The only downside to owning a moon cactus is that it only lives a few years since each portion grows at different rates. However, separating the scion and grafting it to a new rootstock is relatively simple.
Its tops are more shade-tolerant and even dislike bright light. On the other hand, the bottom portion likes a lot of sunlight. So, these do best in an area with indirect light.
Things to Consider
While cacti are low-maintenance houseplants, there are a few things to keep in mind before purchasing one.
Most cactus varieties need full sun to thrive, so make sure you have a sunny window to place them in during winter.
To mimic its natural environment, cacti prefer hot temperatures during the summer, then cool temperatures during the winter.
One of the most common mistakes cacti owners make is overwatering; they only need watering once every two weeks in the summer and once every four weeks in winter.
Cacti are hardy plants and do not require fertilizer. However, if you use fertilizer, ensure one specified for cacti.
Although cacti don't need a lot of pruning, you should remove any dead parts of the plant if you notice them. You can remove pups to propagate, but it's not necessary.
Cacti prefer to be relatively rootbound and don't need repotting often.
Many cactus houseplants have spines that can prick you, so make sure you have a thick set of gloves to protect your hands when repotting or touching.
Frequently Asked Questions
Here are the most frequently asked questions regarding the types of cactus houseplants.
What is the most common house cactus?
The Christmas cactus is one of the most popular for houseplant enthusiasts. This stunning plant looks great in hanging baskets where you can show off its elegant leaves can. As a bonus, the Christmas Cactus has soft "spikes" that won't prick your skin.
Do cacti like big or small pots?
Terracotta pots are porous and more breathable than other options, making them ideal for cacti. While all cacti are different, most are slow-growers with shallow roots. So, choose a shallow terracotta pot versus a deep or large container.
Is it OK to put cacti in regular potting soil?
You should plant your cacti in well-draining soil meant for succulents or cacti. Regular potting soil tends to hold moisture, leading to root rot. Cacti prefer porous, pebbly, or sandy soil that provides drainage and plenty of aeration.
Should I put rocks at the bottom of my cactus plant?
Some cacti owners add small rocks or pebbles at the bottom of their cactus or succulent plants to offer better drainage. These plants grow in sandy or rocky soils that drain quickly in the wild, so trying to replicate their natural habitat can be helpful.
What fertilizer is suitable for cacti?
Cacti don't need fertilization often; however, it's best to opt for a fertilizer made for cacti. You can also dilute houseplant food by half if it's higher in phosphorus than nitrogen. A 5-10-5 solution is acceptable for most species.
Which Types of Cactus Houseplants Will You Buy?
So, what are the best types of cactus houseplants? Because most cacti have the same great features and similar needs, it comes down to which variety you like the most.
Ensure you can provide adequate care, and any of the above plants will make an excellent addition to your home.
References: