Searching for a complete guide to home inspector insurance? If so, you're in the right place. We'll cover what it is, where to buy it, how much it costs, and much more. Read on to learn all you need to know.
What Is Home Inspector Insurance?
You've decided to become a home inspector, congratulations! You've completed your education, passed any state required licensing exams and joined professional associations.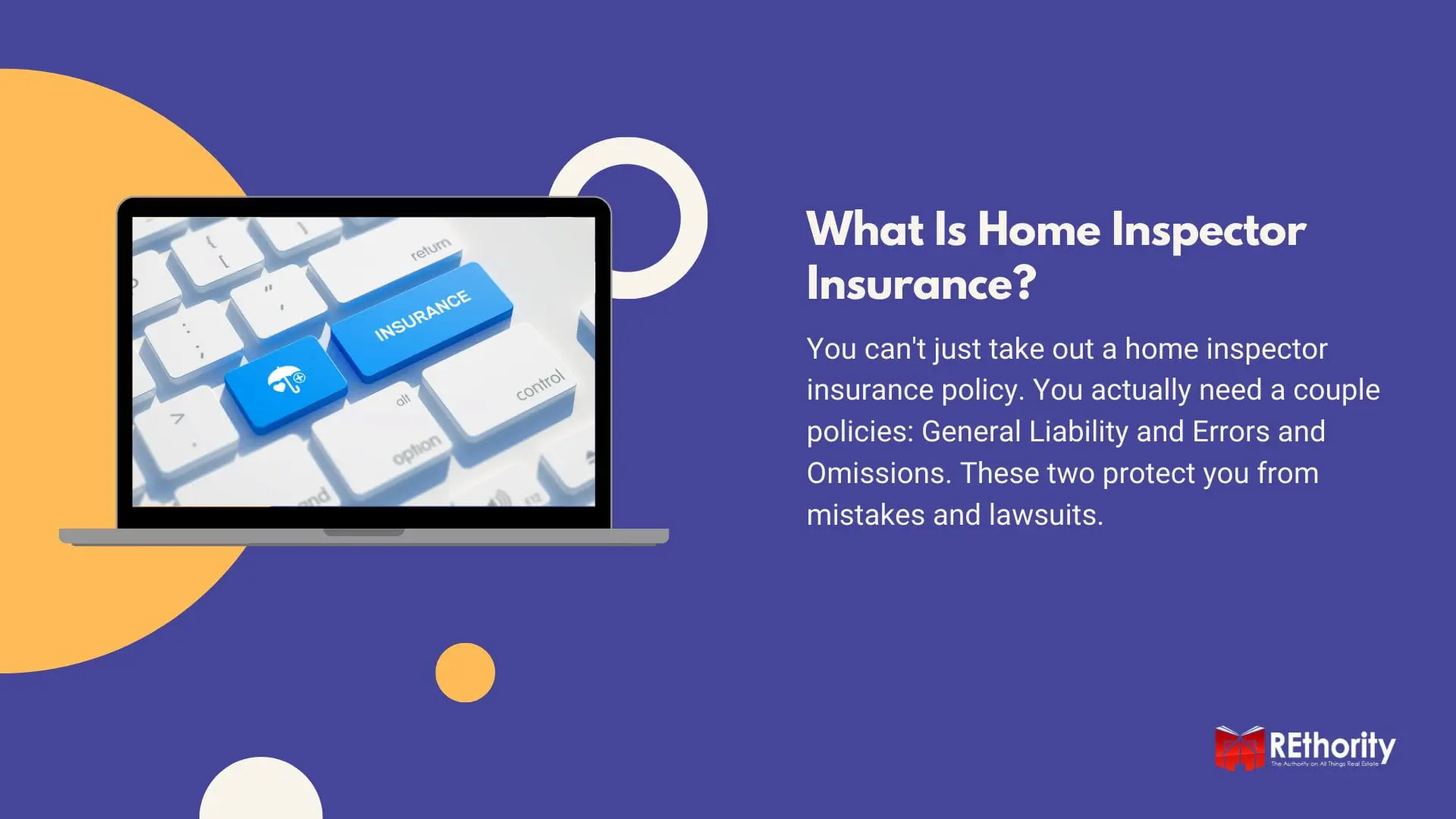 The last thing to do before launching your home inspection business is to get the proper insurance coverage. Since you can't just take out "home inspector insurance," we've broken down the exact types of coverage you need.
For home inspectors, there are two major categories: General Liability Insurance and E&O Insurance. Below, find out everything you need to know about these coverage options and why you need it!
General Liability Insurance
General liability insurance is the more straightforward category of the two. In short, General Liability (or GL, in the insurance world) generally covers you from any damages that may occur in someone's home during an inspection. Specifically, it covers:
Bodily injury
Property damage liability
Medical payments
What It Covers
Why do you need this insurance policy? There are an array of scenarios that can happen during a home inspection. For example, you might be using a heavy ladder to examine the roof.
If it falls and breaks a window, you'll be covered under general liability insurance. If a damage is minor or caused due to a mistake on the part of the home inspector, they will typically opt to pay out of pocket.
This will be cheaper and less complicated the filing an insurance claim. But, it is still a must to have an insurance program that will cover liability in the case of major accidents.
What if your ladder crushes a homeowner's car? You wouldn't want to pay out of pocket to cover that kind of damage. But, always check with your insurance agent before covering something out of pocket.
Keep in mind that general liability insurance only causes damage caused by you while you are on the premise of the home. So, for example, if the homeowner reports a leak a week later, you aren't at fault.
What if the heating unit fails and pipes freeze? It's not covered by general liability insurance…Read on to see what insurance program will cover that kind of error.
Errors & Omissions Insurance
Errors and Omissions insurance, or E&O, is a real estate industry term. The official name used by insurance companies is Professional Liability Insurance. Doctors, engineers and other professionals carry liability coverage.
If a doctor makes an incorrect diagnosis, it can have an adverse effect on the patient. It is the same with home inspectors. Home inspectors can influence whether a potential buyer purchases a home by their inspection report.
For example, if a buyer purchased their home and later found out the roof was faulty, but it wasn't noted in the report, the home inspector can be at fault.
Comprehensive coverage for professional can protect business owners from liability lawsuits. There are also cases where homeowners will try to use your E&O insurance to cover completely unrelated issues.
What It Covers
If, for example, the homeowner trips on the deck and is injured, your insurance carrier will fight the claim. The home inspector is not liable, in this case. If something major happens, you are covered, but up to a limit.
Just like in your car or home insurance, you get as much coverage as you pay for. For example, say a defective chimney causes a house fire and the safety issue was missed in your report.
E&O insurance will cover it…But between medical bills and property damage, this can be a massive claim. Your insurance limits may not cover the totality of the claim and you will be responsible for the rest.
Make sure to talk with your insurance provider about how much coverage you'll need for the worst case scenario. A high limit might seem pricey, but it's worth it to have the peace of mind that you'll be covered if the worst happens.
Tip: If you ever switch providers, be sure to ask if they cover prior acts. This means, if you took out the policy in April then later get a claim for a job that occurred in March, you will be covered.
Are You Required to Have Insurance?
Most states require that home inspectors carry general liability insurance. But unlike doctors, professional liability insurance (or E&O) is not required for home inspectors in most states.
There are some who argue against having E&O insurance at all. Why? It can cause you to be targeted for claims since you have the "money" to cover them.
That said, a claim can occur whether you have insurance or not, and a hefty lawsuit can sink your business, fast. So while you may not be required to purchase E&O insurance, it is important to have it.
Home Inspector Insurance Cost
Most GL policies are required, and cost as little as $500 per year. Policies on the high end can cost as much as $1,500. This affordable insurance is crucial to your business, so don't think about skipping it.
E&O insurance is a little more complicated. For most providers, the minimum limit is $100,000. Premiums for $100,000 can be anywhere in between $1,250 and $5,000.
As you increase your limit, the cost will increase. Determine how much you will need by analyzing the market and speaking with your insurance carrier. Also, think about how much business you are doing per year.
The more jobs, the more chances you may need to cover something. If homes in your area are cheap, $100,000 may be enough. Or perhaps you're inspecting luxury mansions, so you'll need a lot more to cover damages.
If an unfound leak ruins flooring, hardwood is going to cost a lot more than vinyl. Whatever you do, don't be tempted to cancel your E&O insurance if business slows.
You might have less money coming in, and it seems like an easy way to cut costs. This is extremely dangerous, as most claims occur several months after the job itself.
So, Should You Buy Home Inspector Insurance?
To sum things up, yes, you absolutely need home inspection insurance to cover your home inspection business. Along with the health insurance you'll need for yourself, you also need General Liability Insurance and Errors & Omissions insurance.
Industry organizations like the International Association of Certified Home Inspectors have members-only insurance programs that come with discounts and enhanced coverage.
You can also purchase these policies through any reputable insurance agency, so contact your provider as soon as you're ready to launch your business.
You Might Also Like: