Thinking about choosing cabinet refacing as a cost-effective way to give your kitchen a makeover? This is our complete guide to cabinet refacing, including how the process works.
We also cover how long it takes, average cost, and how to find a skilled local professional to do the job. Let's start with what cabinet refacing is and how it's different from refinishing or replacing cabinets.
What Is Cabinet Refacing?
Cabinet refacing is a kitchen makeover process that updates your current cabinetry with new doors, drawers, hardware, and optional additions like crown molding or lighting.
It is a lower-cost alternative to replacing kitchen cabinets because your existing cabinet boxes are used in their current position. This also makes it a much shorter process than replacing kitchen cabinets, which can take several weeks.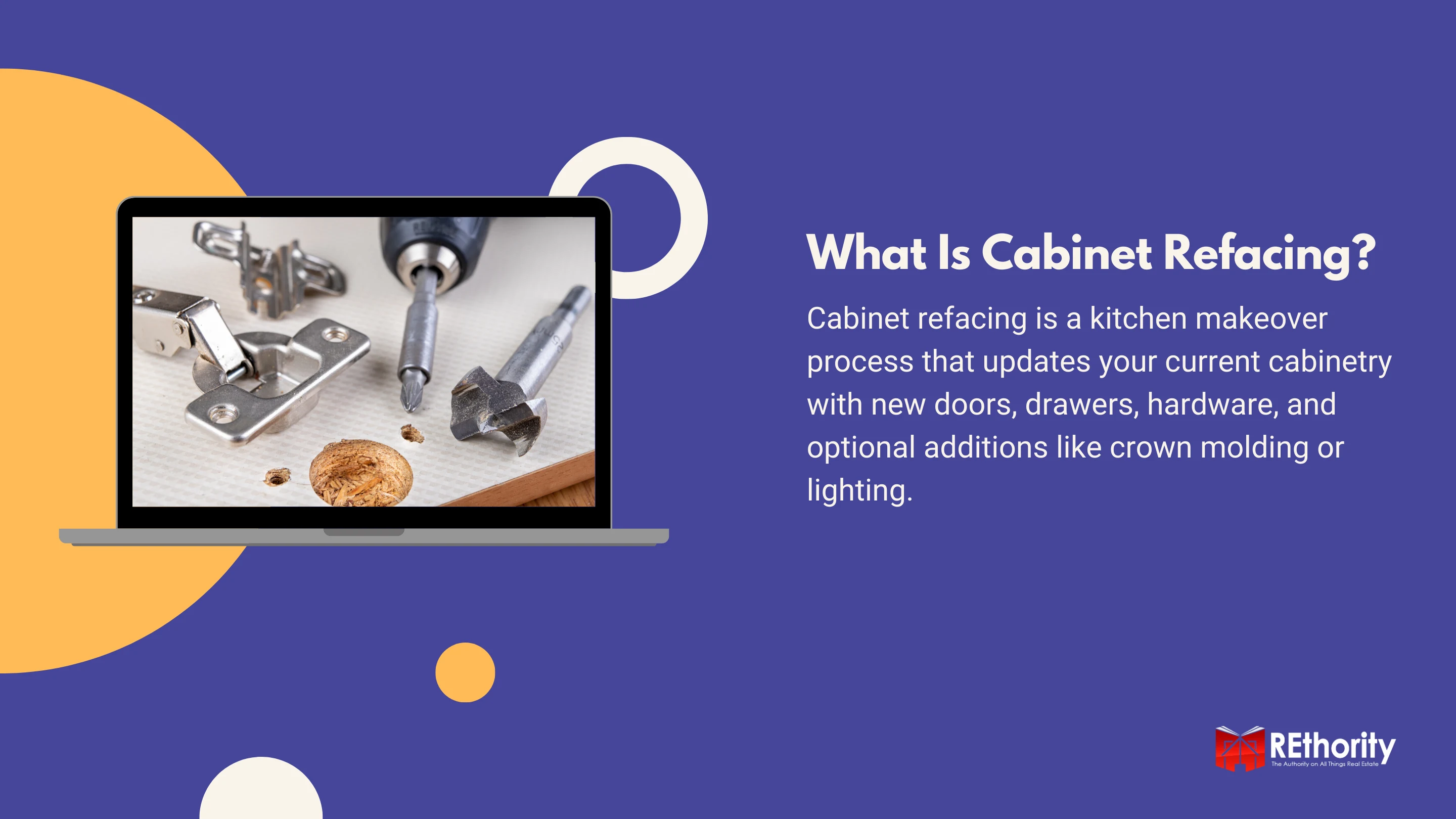 Refinishing cabinets is different from refacing because the existing cabinet doors and drawers are used. Instead of being replaced with new doors and fronts, they are sanded or chemically stripped to change the finish or color of the cabinets.
Refinishing is an option if your cabinets are in good condition, just not the color or finishes you want. By relying on using the existing "shell" of your cabinets with cabinet refacing, you avoid the costly and lengthy process of removing entire cabinets and installing new ones.
You also opt for new cabinet doors, drawers, and hardware instead of simply refinishing your existing cabinets. In a nutshell, you are replacing everything seen by the eye, but the base of the cabinet remains.
When Is Cabinet Refacing a Good Idea?
Cabinet refacing is a cost-effective and relatively quick way to give your kitchen a facelift, but it's not always the best option. When is cabinet refacing a good idea?
Cabinet refacing is a good option if your existing cabinets are sturdy (plywood or MDF), but the doors and drawer fronts are in bad shape. The face frames of your cabinets should be solid hardwood to ensure the new doors are securely installed.

Cabinet refacing can be a great solution if your door's style doesn't fit your kitchen or if you want a complete change in the overall look.

Cabinet refacing might be your best option if you're doing a full kitchen makeover, but like your cabinets' position and don't want to have them completely replaced (or just don't want to get involved in a lengthy, expensive process).
When is cabinet refacing not a good idea? Not all cabinets are suitable candidates for refacing, and depending on what you want your finished kitchen to look like, cabinet refacing may not be the best solution.
If your current cabinets don't have solid face frames (around the doors and sides) that are in good condition, it won't be easy to install new wood veneer or paint. Weak face frames could also create problems with installing new doors and hardware.

If your cabinets don't have enough shelving, have shelving in awkward places or the wrong height, or don't have the amount of storage you need, refacing might be a waste of money and time.

Depending on the condition of your current cabinets, it may be better to have the doors and drawers refinished rather than purchasing new ones. If you like the existing doors and cabinet positions and want unique color or finish, go with refinishing.

If your cabinet layout doesn't fit your kitchen, if your cabinet boxes are in bad condition, or if you're going for a major change, you may want to have the cabinets replaced instead.
The Cabinet Refacing Process
Once you've evaluated your kitchen cabinets to decide if they're a good candidate for refacing, it's helpful to know exactly what the process is like. Here's what you can expect to happen each step of the way when you hire a local professional to reface your cabinets.
Choose and Order the Materials
You and your cabinet specialist will go over some options to help you choose the materials you'd like to replace on your cabinets. You will pick new cabinet doors, drawer fronts, hardware, veneer, RTF, or paint color you'd like.
The goal is to make the frame of the cabinets match your new choices. A local professional will be able to take all the measurements to ensure everything ordered is a perfect fit.
Remove Existing Doors and Drawers
Once your cabinet doors, drawer fronts, hardware, and paint or veneer or RTF has arrived, your cabinet specialist will come to start the job officially.
They will remove the existing cabinet doors and drawers, save any existing hardware you'll be reusing, and ensure your new doors and drawer fronts are a perfect fit.
Refinish or Cover Outer Cabinet Edges and Sides
Next, they use the wood veneer, RTF, or paint to cover the face frames of your cabinets and the cabinet sides. They may need to hand sand your cabinets during this step to ensure perfect adherence.
This makes sure your cabinets perfectly match your new doors and give the kitchen an updated look. The goal is to give the appearance of brand new cabinets by simply refinishing them.
Install New Doors, Drawers, and Hardware
Once your cabinet frames have been refaced with the materials of your choice, your cabinet specialist will get to work installing the hardware, new doors, and drawer fronts.
Because you're not replacing entire drawer boxes or cabinet boxes, this part of the process doesn't take long. During this step, if you ordered any optional accessories (like lighting, lazy susans, or crown molding), they will be installed as well.
If you're a passionate DIYer, you might be up for taking on the job yourself. It's important to know that doing the job yourself will take longer and require a lot of precision and measuring.
It's easy to make a small mistake and end up with doors that don't fit properly, the wrong paint color, or a veneer that doesn't match. We suggest having a local professional do the job for you.
This way, the only things you have to do are choose your preferred materials (doors, drawer fronts, hardware, optional accessories) and give up your kitchen for a day two for the job to be completed. They'll take care of the rest.
How Long Does It Take to Reface Cabinets?
Refacing cabinets is a relatively fast, simple process for a professional. It does not take as long as cabinet replacements, which might take several weeks to complete.
Cabinet refacing typically takes anywhere from 2 to 4 days. Bigger kitchens or those with lots of cabinetry may take a little more time, while small kitchens could take as little as 1 to 2 days.
If you're doing the job yourself, plan for about one week from start to finish. Although this timeframe will likely be longer because of your learning curve.
Cabinet Refacing Cost Averages
One of the main reasons homeowners decide to have cabinets refaced instead of replaced is the overall cost. On average, cabinet refacing is about 50% cheaper than having new custom cabinets installed.
Cost to Reface Cabinets
Refacing cabinets in a typical kitchen will cost anywhere from $1,000 to $6,000, depending on the materials you choose and how many cabinets you have. This is based on averages we collected from around the web.
Laminate veneer costs considerably less than real wood veneer, and the wide range of hardware choices also make the cost vary. Each piece of hardware you select for your refaced cabinets can run you anywhere from $2 to $50.
I'd know, I bought hardware for my own kitchen remodel. Those cool European pulls? $7 each. And the handy slow-close hinges? Those are another $5-$15 each, depending which model you choose.
Cost to Refinish Cabinets
So make sure to keep your budget in mind as you browse the different options. Refinishing cabinets is cheaper than refacing cabinets, as no new doors or drawer fronts are needed, paint or stain. Expect to pay anywhere from $1,700 and $3,900 for refinishing.
Replacing cabinets and purchasing new ones that must be installed is more expensive and time-consuming. Custom cabinets start at about $20,000 for a typical kitchen, and stock cabinets start at about $5,000.
If you're planning on refacing your cabinets yourself, expect to pay anywhere from $30 to $100 per cabinet door, a little less for each drawer front, $2 to $50 for each hardware piece, and $200 to $500 for the veneer materials.
In addition, if you don't have the needed tools, you'll need a miter and circular saw, drill, nail gun, caulk gun, sandpaper, nails, drill bits, and specialized veneer application tools that can cost more than $1,000 together.
Should You Hire a Local Cabinet Refacing Professional?
There are many benefits to hiring a local cabinet refacing professional instead of DIYing this project. If you don't already have all the necessary tools, purchasing those along with materials could drive the cost if DIY higher.
The precise measurements and veneer application required for this project are another reason to hire a professional. With years of experience and skill, they can easily finish this project for three days with full cleanup and final adjustments to ensure your kitchen looks like you envisioned.
Additionally, a local professional will be able to offer guidance and suggestions if you're unsure about material or have trouble choosing between door styles or hardware. They can also point you in the right direction for materials to keep you on or under budget.
Some projects are a good fit for DIYers, but cabinet refacing is better left to a professional. Find an affordable cabinet refacing professional near you by using our form below!