When choosing the best water heater brand for your home, you'll need to consider its fuel type, size, budget, and energy efficiency.
Each of these elements can help you determine which brand will work for your needs, which we go into more depth below.
Since fuel type and size are so diverse, we've rounded up the best water heater brands and why we love each one.
These brands' reliability and quality are exceptional and give consumers the product they need in an efficient water heater.
The Best Water Heater Brands
We break down each of these brands into more detail below so you can determine which one will suit your household requirements.
Unfortunately, not every brand will carry all model types, so your choices may be limited if you're searching for solar or tankless systems.

1. A.O. Smith
A.O. Smith specializes in providing versatile, high-efficiency water heaters. Whether you're looking for an electric model, gas-powered, a tankless system, or a hybrid system, they have everything you need.
Their powerful water heaters are not only efficient, but customers are also impressed with how quiet they are. In addition, A.O. Smith uses commercial-grade components to ensure longevity, durability, and reliability in a home water heater.
Typically, A.O. Smith's gas-powered water heaters are cheaper to operate than electric models but can cost more upfront, with installation and ventilation costs.
A.O. Smith's electric water heater units have a UEF (Uniform Energy Factor) rating between .89 and 3.45, making them highly efficient in saving you money on your monthly bills. A.O. Smith offers a hybrid water heater model that's one of the most energy-efficient units in the market today.
This innovative product uses the air in your home to help heat the water rather than relying solely on electricity to do the job. This method ensures effective use of energy, therefore cutting down your monthly bills.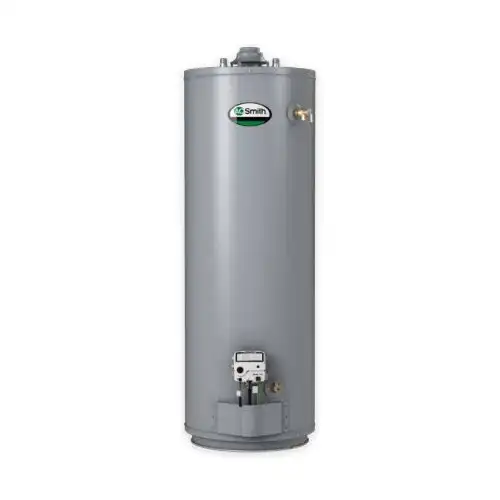 Advantages
Reliability: A.O. Smith is a reputable brand known for producing reliable and durable water heaters.
Wide Range of Options: They offer a diverse selection of water heaters, including various sizes, fuel types, and efficiency levels, catering to different needs and preferences.
Energy Efficiency: A.O. Smith focuses on producing energy-efficient models, helping homeowners save on utility bills while reducing environmental impact.
Innovative Technologies: The brand incorporates advanced features and technologies, such as self-cleaning mechanisms, digital displays, and smart controls, to enhance performance and user convenience.
Excellent Performance: A.O. Smith water heaters are designed to deliver consistent and efficient hot water supply, ensuring comfort and convenience.
Disadvantages
Higher Price Range: A.O. Smith water heaters are generally priced higher compared to some other brands in the market, which may pose a financial challenge for budget-conscious buyers.
Professional Installation: Some models may require professional installation due to their complexity or specific installation requirements, adding to the overall cost.
Limited Availability: Depending on the region, A.O. Smith water heaters may not be as widely available as other brands, potentially limiting options for consumers in certain areas.
2. Bosch
Bosch has become a household name since 1886, providing solutions that work for their clients. They offer electric water heaters, along with tankless point-of-use gas-powered systems for a more energy-efficient solution.
One benefit of the Bosch tankless water heater system is its compact size, making it ideal for small spaces. Although they are significantly smaller than traditional water heaters, it doesn't mean they are less productive.
Consequently, the highly efficient heat exchangers ensure hot water delivery when you need it, every time. Bosch electric tankless water heaters boast a 98% efficiency rate, with minimal loss, providing the best solution for your home needs.
Most of their models also include low and high-kW settings for customization to ensure optimal use. One benefit of tankless water heaters from Bosch is having cleaner water each time since there is less opportunity to build up sediment.

Advantages
Energy Efficiency: Bosch offers high-efficiency models, helping to save on energy costs.
Innovative Technology: They incorporate advanced features like condensing technology and smart controls for enhanced performance and convenience.
Reliability: Bosch is known for producing reliable and durable water heaters.
Disadvantages
Higher Price: Bosch water heaters tend to be more expensive compared to some other brands.
Limited Options: Bosch's product range may be more limited compared to larger manufacturers.
3. Bradford White
Another popular choice in the water heater market is Bradford White. For the past 135 years, they continue to manufacture and distribute their units in the United States, ensuring the highest quality possible.
However, this brand is not readily available at stores; you can only find them through authorized wholesalers and representatives. Bradford White has one of the best warranties around for their units.
As long as a certified plumber installs the water heater, you can expect a 10-year warranty with your new model. Their products are a bit more costly than other water heater brands, but the exceptional craftsmanship and reliability make up for the hefty price tag.
In addition, less routine maintenance and repairs make these water heaters more cost-effective in the long run. You can find both electric and gas models in the Bradford White line of water heaters.
They received the 2020 and 2021 Energy Partner of the Year designation for their continued commitment to providing innovative products that save you money and are better for the environment.
With over 60 Energy Star models available to choose from, you're sure to find the most efficient water heater to suit your needs.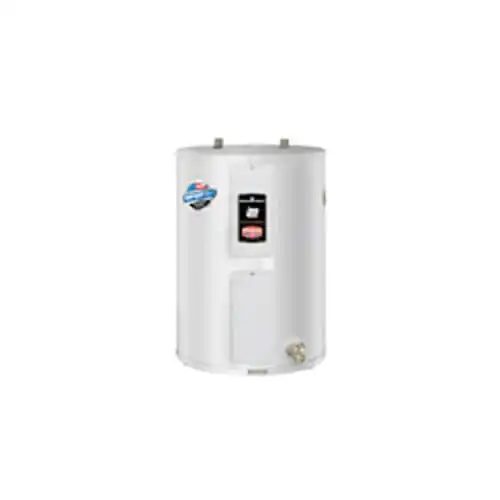 Advantages
Diverse Selection: Bradford White offers a wide range of water heaters, including different sizes, fuel types, and commercial options.
Durability: They are known for manufacturing sturdy and long-lasting water heaters.
Professional Installation: Bradford White provides professional installation, ensuring proper setup and performance.
Disadvantages
Higher Initial Cost: Bradford White water heaters can have a higher upfront cost.
Limited Availability: Availability may vary depending on the region.
4. Kenmore
Since 1913, Kenmore has prioritized quality and reliability when supplying customers with various home appliances, including water heaters. As a result, the company name has become synonymous with reliability and affordability.
Therefore, you can find electric, propane, natural gas, and hybrid models available for your household needs.
One remarkable feature of the Kenmore water heaters is the addition of thicker foam and a higher insulation value. They also include insulated heat traps, making them more energy-efficient by reducing any potential heat loss to a minimum.
Some advantages to some Kenmore water heater models include having two anode rods for better rust resistance, and self-cleaning features to help minimize sediment build-up. These features can save you money in the long run from maintenance and repairs.
If you purchase units with these additional features, you can take advantage of the 12-year warranty that accompanies the water heater.
Having a product with an extended warranty can ease your mind regarding potential repairs and maintenance later.

Advantages
Affordability: Kenmore water heaters are often priced competitively, making them more budget-friendly.
Wide Availability: Kenmore products are widely available at various retail outlets.
Warranty: They typically offer good warranty coverage on their water heaters.
Disadvantages
Mixed Reviews: Kenmore water heaters have received mixed customer reviews regarding reliability and performance.
Limited Selection: The range of water heaters offered by Kenmore may be more limited compared to other brands.
5. Rheem
Although Rheem has been in business since 1925, they have expanded their product line to include air conditioning units and water heaters.
Using cutting-edge technology and innovation, Rheem offers several models of water heaters, including electric, gas, tankless, heat pump, and solar varieties.
Rheem carries one of the most efficient water heaters available in the market today in their hybrid-electric model. One innovative attribute to a Rheem water heater is having access to Mobile Leak Alerts with some models.
This feature can not only protect your home from potential damage, but it could help you qualify for insurance discounts. Rheem's Water Heater Booster unit is a popular product that increases capacity up to 45% more without replacing an existing Rheem unit with a larger one.
In addition, this booster includes a Vacation Mode and an Eco Mode, making it extremely energy-efficient, helping save you money each month. Rheem offers an innovative product for homeowners looking at combining their water heater with a boiler unit.
Their Prestige Series takes the features of an energy-efficient water heater and combines it with the functionality of a boiler for space heating in one compact unit.
It also comes with a 95% AFUE (Annual Fuel Utilization Efficiency) rating, making it one of the best choices for energy savings and potential rebates.
Their commitment to sustainability is apparent with their many product lines and achieving zero waste with innovation, efficiency, and leadership.
Rheem is a cutting-edge brand that ensures they leave the planet a better place for future generations through their products and business practices.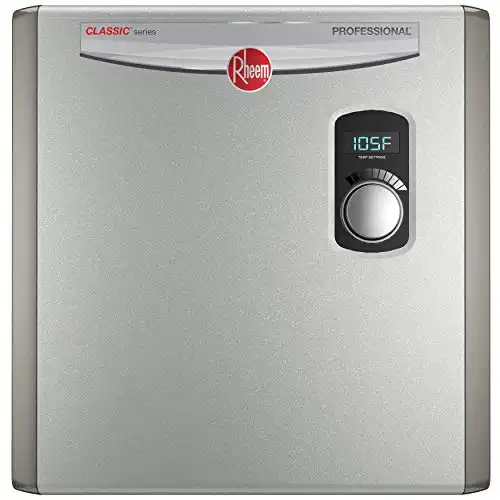 Advantages
High Efficiency: Rheem offers a range of energy-efficient water heaters, helping to reduce energy consumption and costs.
Wide Variety: They provide a diverse selection of models, accommodating different budgets and requirements.
Strong Warranty: Rheem often offers generous warranty coverage on their water heaters.
Disadvantages
Professional Installation: Some Rheem models may require professional installation, which can add to the overall cost.
Mixed Quality: There have been reports of inconsistent quality control with Rheem water heaters.
6. Whirlpool
As one of the more popular names in the market today, Whirlpool offers high-quality electric, propane, and gas water heaters.
Starting with only washing machines, this well-known brand has successfully included superior water heater products that come with 6 and 12-year warranties.
One element that makes this brand's water heaters an attractive choice for many homes is the price tag. Their units are affordable, and parts are easy to locate if there are any issues later on.
In addition, they have models ranging from only 6 gallons up to 50 gallons in size, perfect for any size of home.
The American Water Heater Company manufactures the Whirlpool units under license. They have been one of the leading manufacturers in the United States since 1996, providing high-quality products that are reliable and durable.
Many homeowners prefer water heater products manufactured in the United States, which can help with any warranty issues or replacement parts in the future.
Advantages
Affordable Options: Whirlpool water heaters are often competitively priced, offering affordable choices.
Wide Distribution: Whirlpool products are widely available at numerous retail outlets.
Energy Efficiency: They offer energy-efficient models that can help reduce utility bills.
Disadvantages
Limited Selection: The range of water heaters offered by Whirlpool may be more limited compared to other brands.
Mixed Customer Service: Some customers have reported mixed experiences with Whirlpool's customer service.
What Makes a Water Heater Brand Great?
When determining a water heater brand for your next big purchase, these elements could hold weight on your decision.
Energy-Efficient
With today's technology, there is no reason why any brand should offer a major appliance or product that is not energy-efficient.
Consequently, they are one of the second-highest products that account for the total household energy consumption.
So, finding one that uses less energy is vital. Not only will it save you money on your monthly bills, but it will also reduce your overall carbon footprint.
Reliability
No one wants to have their water heater quit or have performance issues. Choosing an exceptional water heater brand means finding a reliable and long-lasting model, so you don't have to worry about its performance or operation.
Water heaters should provide hot water when you need it, without worrying about taking too long in the shower or running too many loads of laundry.
Warranty Coverage
Purchasing a water heater is not a regular occurrence. These products can last anywhere from 8, 12, or even 20 years, depending on the style and model.
A reputable manufacturer will offer customers exceptional warranty coverage if they face any problems or issues with regular operation during the unit's lifetime.
Things to Consider
When choosing a new water heater brand, there are some factors to keep in mind. Of course, water heating needs vary by household, so be sure to ask yourself these questions when looking at popular water heater brands:
What type would you prefer; solar, electric, gas, propane, tankless, or a heat pump model?
What is your budget?
What capacity would you require for your home if you're not choosing a tankless on-demand system?
These and other elements can help you determine which of these six popular brands will work best for your needs.
Frequently Asked Questions
After comparing these top six water heater brands, you may still have questions. You can read more below about the best water heater brands.
Which water heater brand will last the longest?
When comparing the top six water heater brands, Rheem comes out as one of the best choices for a long-lasting and durable product.
Their Marathon water heater may be the last electric one you purchase for your home.
How much does replacing a water heater cost?
The price of your new water heater will depend highly on the style and model you choose for your home.
However, you can expect a price tag ranging from $300 to $2,000 for the unit, plus installation and labor costs.
Final Thoughts
After exploring these six well-known water heater brands in the market, you may still wonder which is the best?
Your answer to this burning question will depend on the specific needs of your home.
Typically, all newer water heater models will be energy-efficient, but you may want to explore tankless systems that can outlast a traditional unit.
When selecting your next unit, a water heater's durability, reliability, and longevity should be your top priorities.
Resources: