Wondering how much Bath Fitter costs?
Look no further — you're in the right place. We'll show you how much you can expect to spend on their tub liners, share our experience, and show you why we love it so much.
If your tub or shower is looking a little dated, you'll have to tear out the old tile, surround, and tub. But there's a much better way — Bath Fitter.
This company manufactures acrylic liners that slide over your existing tub or shower. But what is the cost for bathroom fitting?
Don't worry — I used to work as a property manager, and we almost exclusively used Bath Fitter for our remodels. It was just so dang easy and you can't beat the custom look.
I'll explain what you can expect to pay below.
How Much Does Bath Fitter Cost?
Bath Fitter tub and shower liners cost between $1,000 and $10,000, but most homeowners pay just over $3,000. Expect to pay between $1,000 and $5,400 to replace a tub; Bath Fitter's pricing makes it a great alternative to remodeling.
Covering your existing facilities with a precisely measured liner is a less expensive option to replacing a tub or shower. But the pricing is not quite as straightforward as you may think.
The low-cost options consist of simply installing a liner on the bathtub. It's going to cost more if you're covering an entire bathtub enclosure or adding accessories such as shelving.
Other costly remodeling options include converting a tub to a shower or converting a shower to a tub. You will also pay more for walk-in tubs and non-slip flooring.
Materials may also affect the cost. Some liners are made of vinyl, which is less expensive than the much more popular and durable acrylic. Read on to learn what Bath Fitter costs (on average) and other alternatives.
Why Should You Choose Bath Fitter?
Bath Fitter offers quick turnaround, lower costs, and less maintenance than a complete shower or tub replacement. With a tub or shower liner, the install time is 1-2 days, compared to weeks with a complete tube or shower remodel using tile.
They provides a great alternative to full tub or shower replacement. We've used Bath Fitter many times on our remodeling projects for clients, and we've found them to be reliable, affordable, and high-quality.
Instead of tearing out an replacing an old tub or shower, Bath Fitter installs a custom-made fiberglass liner on top of an existing tub or shower. This saves both time and money, looks nice, and most are guaranteed for life.
In my experience, Bath Fitter is well worth the cost. Not only is it less expensive than hiring a contractor to replace a tub, but their surrounds are also seamless and custom made, meaning they'll last far longer than a cheap vinyl surround from a big box home improvement store.
When I managed properties, we exclusively used BATH FITTER's tub and shower surrounds because they lasted 10+ years, the installation process takes 1-2 days, and they're about half the price of hiring a contractor to replace the tub and tile surround.
What should you know about Bath Fitter liners?
A Bath Fitter tub or shower liner is different than a traditional bathtub liner. The latter are found at big box home improvement stores, and are typically just large, flat pieces of vinyl that you stick together to form a shower surround.
A Bath Fitter tub or shower liner is a seamless piece of acrylic that's custom made for your tub or shower. They offer a lifetime warranty and look far nicer than a cheap piece of vinyl that makes up a standard bathtub or shower liner surround.
Resurfacing lasts between two and five years (in our experience), but tub liners are typically guaranteed to last as long as you own your home. On average, they'll go out of style before they break, unless you're very hard on them.
Bath Fitter's tub and shower liners use a non-porous acrylic material, which are both smooth and easier to clean up than a tile surround. The liners use non-skid surfaces to keep you safe, and are chip resistant.
In fact, BATH FITTER is so confident in the quality of their product, that they offer a lifetime warranty on every liner they sell. Not only this, but the tub liners are custom molded to your tub or shower, and there's a wide array of options like shelves, surface finishes, colors, and more to pick from.
If you are an experienced contractor, handyman, or homeowner, it's possible to install a tub liner yourself. However, water leaks can be expensive, so we suggest hiring a professional.
Bath Fitter Conversion From Tub to Shower
At around $3,000, a tub to shower conversion from Bath Fitter is more reasonable than complete replacement. A contractor will charge between $5,000 and $10,000 to convert a tub to a shower.
The benefit of using Bath Fitter is that the existing structure and tub remain, and it's plumbed for a shower and a new liner and surround is added. So you get the benefit and look of a complete remodel at a fraction of a price.
Bath Fitter tub installation costs between $1,300 and $4,000 for BATH FITTER to complete a tub liner installation. In my experience, a standard size tub and surround can be overlaid with a custom liner for around $2,500.
Replacement vs Bath Liner Cost
Covering your old bathtub with a new liner is a much less expensive home improvement than replacing the tub. Nationwide, the national average cost to install a bathtub is $2,800.
Tub Replacement Cost
Tub replacements range from about $1,000 to about $5,400. The lowest price you can expect to pay is $180, but costs quickly skyrocket to more than $9,000.
The costs vary by geographic region, type and number of modifications, and whether plumbing has to be rerouted or new tile installed.
These estimates don't include the cost of the actual tub, either. You can get bathtubs made of several materials, and each has a different price tag. At the low end are acrylic tubs.
These typically range from $500 to $900. Bath Fitter tub liners cost between $2,500 and $3,000. While this seems more expensive than a simple replacement, keep in mind that labor is the kicker.
Material Affects Cost
Bath liners are typically made of acrylic, so you should use tubs made of this material when comparing costs of lining to replacing. Acrylic is not the least expensive bathtub material; acrylic tubs may cost as little as $200.
If you replace your tub with one made of the more expensive materials, costs can skyrocket. A new tub made of cultured marble, enameled steel or enameled cast iron can easily cover over $2,000.
Although it's low-cost, acrylic is a solid choice for a bathtub or shower. It's easy to clean, lightweight, and wears well.
The much more expensive cultured marble requires lots of care and is easy to scratch. Marble tubs are also very heavy. You may even have to reinforce the floor to support a marble tub.
All told, Bath Fitter's cost to install a bathtub or shower liner is lower than replacing the tub or shower. And there are more reasons to consider a liner that doesn't have anything to do with money.
Other Bath Liner Pros
Fast Installation
Bath Fitter's cost isn't the only pro. The biggest selling point is that most installations are done in a single day. The liner goes right over the existing tub. Muss and fuss is minimal.
Replacing a tub is likely to be a multi-day project, often stretching into the range of a few weeks. After all, there's the demolition, installation, and then repair of everything around the tub.
And removing the existing tub and modifying the plumbing, tile, and other infrastructure will turn your bathroom into a construction zone for the entire time.
Lower Chance of Leaks
An acrylic bath liner is installed as a single sheet of custom-formed acrylic. It covers the tile, grout and corners seamlessly. Using a single sheet of acrylic means there is less risk of leaking, and it's much easier to clean than tile and grout.
Bath Liner Cons
Cost aside, Bath Fitter tub liners have many advantages over other solutions to old, worn, or just plain ugly tubs. Liners are popular with the hotel and motel industry as a way to keep their properties in good condition. However, acrylic bath liners do have downsides.
They Aren't Universal
While we love that Bath Fitter's tub overlays have seamless walls, they're not suitable for all kinds of tubs. For instance, most claw-foot tubs can't be fitted with a liner. Same with tubs that have water jets.
And some bathtubs may be too damaged to be re-lined. If you have a bad case of mold or rot on or around your bathtub, ripping out and replacing the tub may be the only option.
Special Orders
Another limitation is that once you have your tub or shower measured and the acrylic liner has been shipped, you are committed. You can't make last-minute changes if you think of another design you'd prefer.
It Takes Time
After approving Bath Fitter's cost estimate for their acrylic tub overlay, you need to plan ahead. The professional installation is the only thing anyone promises to complete in a day.
After the initial sales call, a Bath Fitter technician will usually have to come out t0 measure, ultimately ensuring a precise fit. It's a custom-made piece, after all.
Then, the liner has to be manufactured and shipped. After that is done, expect a quick installation from an experienced technician. From the start to settling into your re-lined bath for a soak, the entire process can take several weeks.
They Can Crack
While the seamless sheet of acrylic is unlikely to leak, it can develop cracks if not installed properly. Also, leaks can occur on the edges where it is sealed to the wall or around the drain.
If cracks, holes, or other leaks develop water can get behind the liner. This can lead to a distinctive squishy feeling when a bather steps on the tub bottom. Trapped water can become stagnant and create odor problems.
It can also prompt the growth of mold and mildew that can be difficult to remove. However, I've never experienced this with anything but an old, non-Bath Fitter tub or shower. The tube liners we used at our properties always held up.
Tub and Shower Liner Suppliers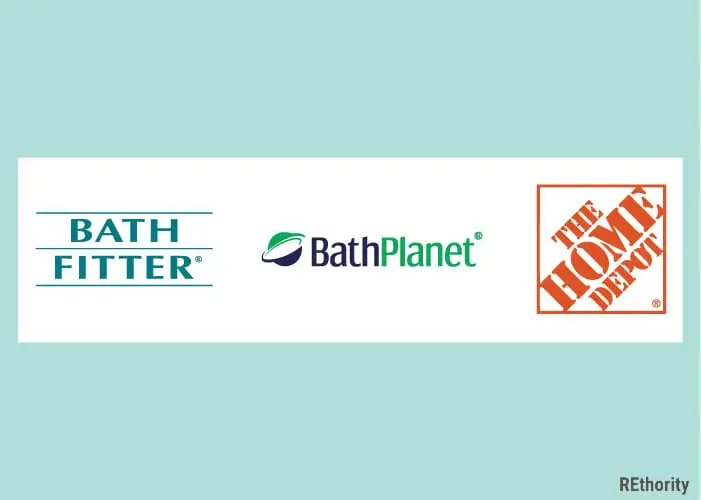 One variable that can affect a tub liner vendor's price and quality is the company you choose to do your tub liner project. There are a number of providers to choose from.
We've outlined a few of the most popular vendors below.
Bath Fitter
Bath Fitter is one of the biggest names in bath and tub liners. If you landed on our Bath Fitter cost guide, we'd guess that this is the company you're looking for price guides on.
The company has been around since 1984 and done more than two million installations. Bath Fitter does acrylic bathtub and shower renovations and tub-to-shower conversions.
They also offer a number of choices for faucets, shelves, shower doors, safety bars and other add-ons. They have a limited lifetime warranty for as long as you own your home.
With hundreds of locations across the U.S. and Canada, you can likely find a local business to give you a free consultation to get the job started.
Bath Planet
Bath Planet is another bath liner specialist company. In addition to doing acrylic liners, they can replace regular tubs with walk-in tubs.
Like other acrylic bath liner firms, Bath Planet promises the installation will take as little as a day. The company also offers a limited lifetime warranty.
Bath Planet dealers are scattered across the U.S. and Canada. However, there aren't as many Bath Planet dealers as some of the others.
The Home Depot
Our favorite home improvement store also sells acrylic tub liners. The company employs independent local companies to do the installation. Installers are licensed, insured, and background screened.
Home Depot will send out an estimator for free. The company promises to get the job completed in a couple of days. Financing is one plus when you get your tub liner from Home Depot. You can use your credit card to pay for it.
Another option is a Home Depot Project Loan. However, you can't get tub liners from every Home Depot location. The company only offers the products in a limited number of areas.
Bath Fitter Alternatives
If Bath Fitter's prices sound too expensive and replacement is too messy, there are many other options available to you.
These range from refinishing to replacing. While we love Bath Fitter over every alternative, it's always good to explore other options.
Here are our favorites:
Refinishing the Tub
This involves applying a new surface to your existing tub. It's more like a painting than covering it with a new acrylic sheet. Refinishing costs a fraction as much as lining and can restore an old tub to a like-new appearance.
Tub refinishing usually costs a few hundred dollars. And it should take a day or less. You don't have to limit yourself to refinishing the tub.
You can also refinish the tile surround. The cost for doing both tub and surrounding ranges from $800 to $1,200. Refinishing also can be done to tub designs that aren't suitable for lining.
If you have an antique clawfoot tub you don't want to replace, refinishing may be the best option. The recoating may need to be done again in as soon as two to five years.
Compare this to the limited lifetime warranty of many bath liners. Refinishing could be a good choice for a more temporary solution, but not for the long haul.
Replacing the Tub
Do-it-yourself tub liner installation may suggest itself as another way you can go. However, remember that acrylic liners can crack if not installed properly.
Installing a bathtub liner is a skilled job.
The liners usually come in two pieces, one for the tub and one for the three-wall surround. The liner and surround are glued down first.
Then the seam between them is sealed. Gluing down the tub offers lots of opportunities for things to go wrong. Another key consideration is the need for an accurate fit.
Bathtub liner companies can make liners to precisely fit any of the approximately 1,500 different models from different manufacturers.
Hiring a Contractor
To be honest, Bath Fitter is simply making a tub liner that's custom-made for your home. However, a contractor might be able to mimic this process with pre-made acrylic pieces. While it's not necessarily the same thing (i.e. custom), it might save you a few bucks.
If you want to save money, hire an independent contractor. But know that when you do this, you won't get the same cust0m-built liner or lifetime warranty.
Instead, you'll get panels that are cut to fit your tub. It's still a great option, and in many cases, can be done for half (or more) of the cost of BATH FITTER or another tub liner company. But it's still a tradeoff to make.
Get a Quote
Find Local Contractors
We partnered with Networx to save you big money on your next home renovation project. And quotes are free!
Find Contractors
We may earn a commission when you click this link, at no extra cost to you.
Final Word
If you're looking at doing something to improve the look of your bathroom, bath liners should be at the top of your radar. After all, they're affordable, durable, and can be installed quickly.
Cost for bathroom fitting are estimates between $2,000 and $3,000.
Keep in mind, however, that this average only includes the basic walls, and maybe one shelf. Options like safety grab bars and built-in soap dishes also ramp up the cost.
You can get an old bathtub lined for $1,000 if you skip the add-ons. Typical prices for average jobs, which could include some extras, range from about $1,500 to more than $4,500.
On the low end, the minimum is $500 for a simple tub liner. At the top, the job could cost you as much as $7,800. For this reason, we think that Bath Fitter's cost makes it a great option for a tub remodel.
Resources: